In a few weeks, Enterprise Connect, the largest event covering enterprise communication and collaboration, will open in Orlando. The Fonolo crew will be there in full force with our booth and some exciting announcements as well.
I've been attending every year since the conference was re-launched in 2010. (In fact, Fonolo's first public exhibit was as part of the "Innovation Showcase" at Enterprise Connect.) The event has never failed to provide me with many memorable conversations and a better understanding of our industry.
If your work involves customer service, contact center, unified communication or enterprise telephony, this is an event worth attending. Here are few reasons why:
1) Wide Lens
Normally we at Fonolo attend or exhibit at conferences that are more focused on the call center such as IQPC's Call Center Week, IAUG's Converge or ICMI's ACCE. Attending Enterprise Connect gives us a "wider lens" for understanding the trends that are transforming the contact center industry such as the transition to the cloud, social media, mobility, and more.
To fully understand the forces behind these trends, you need to see the transformation of the contact center in the context of the bigger picture: the transformation of enterprise communications in general. After all, the combined annual spending on contact center technology, at roughly $10B is dwarfed by the annual spending on enterprise communications, which is in the $100B range. Widening the lens even further, one should really view the changes in enterprise communication as part of the truly epic transformation of the trillion dollar telco industry.
2) Innovation Showcase
I mentioned in the opening that Fonolo participated in the Innovation Showcase in our early days. It was an opportunity that was really beneficial for us and we're grateful to the organizers Eric Krapf and Dave Michels.
This year's crop of start-ups at the showcase looks quite interesting, so you should check them out while you're there. You can see the list of start-ups here.
3) Free Chocolate
And finally, the most important reason to attend the show: The Fonolo booth will be handing out free, full-size chocolate bars. Come pay us a visit!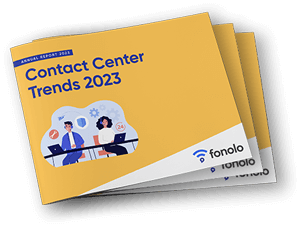 Trend Alert! Contact Center Industry Predictions for 2023
This report offers perspective on where the contact center industry stands today, plus our trend predictions for 2023.