In the never-ending quest to deliver service excellence, the concept of "Journey Mapping" has become a popular tool for gaining a deeper understanding of the customer experience. A journey map is, quite literally, a map of the journey one takes from start to finish for a given process, and it allows you to view your company from a customer perspective.
The idea of creating a diagram that illustrates the steps your customer takes when engaging with your organization is simple enough. However, it gets complex as you introduce touchpoints (specific areas of interaction), goals, and "moments of truth" (key 'ah-ha' moments where decisions take place).
Here are 5 things that can help your organization create effective customer experience journey maps:
1) Clearly Define the Goals of the Journey
Often, the toughest part of the problem is knowing which question you seek to answer. Identifying key steps is important, but defining the entire journey is critical (e.g, did it start with Google and a visit to your website, before your customer picked up the phone?  Does the journey end with a sale, or continued support and additional purchasing?). Keep the specific goals in mind as you map out what can be a very complex series of interactions.
2) Understand Who's Taking the Journey
Not all customers are created equal and, accordingly, their individual experiences with your organization will vary considerably. So to effectively map their journey, the key is to have a detailed understanding of the customer. This is most often accomplished with a prototypical customer "persona", a profile of someone who best represents the customer segment in question (e.g. 'Mary', single-mom who works two jobs, needs information about her healthcare coverage and who will resent you forever if she has to sit on hold for another minute).
3) Look for Moments of Truth
Key decision points along the path – the ones that can make-or-break your relationship with the customer – are often out of your control. Do you know what they are? Perhaps it's when potential customers compare your prices with their colleagues, or when a customer has been put on hold one-too-many times with your support reps. It goes without saying that these are major opportunities for your organization. Great journey maps identify these moments, separating them from the rest.
4) Involve Everyone
Everyone in your organization will have a slightly different perspective on the customer experience, so you need buy-in from all of them. Start with teams or individuals who are customer-facing, and work up the food chain. Identify all areas of interaction in great detail. Don't forget to involve your customers – without whom, you'll lack the feedback that matters most.
5) Action, Reaction
It's more than just Newton's third law. Building a CX journey map will reveal a wealth of data- what works, what doesn't, key pain points, etc. The end goal should be to drive changes in service delivery, illuminate areas in need of improvement, and ultimately improve the customer experience and your bottom line.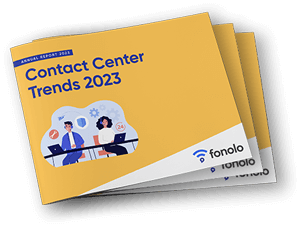 Trend Alert! Contact Center Industry Predictions for 2023
This report offers perspective on where the contact center industry stands today, plus our trend predictions for 2023.