Last week, Fonolo hosted a Google Hangout to discuss the future of the call center. This fabulous panel of industry experts shared their comments and stories on four topics: customer experience, the cloud, WebRTC and social media. To save you some time, we've extracted video snippets from each topic.
Let's take a quick look at the panelist introductions: Blair Pleasant Principal Analyst at Commfusion, Dan Miller Senior Analyst & Founder at Opus Research, Keith Dawson Principal Analyst, Customer Interaction at Ovum, and Shai Berger CEO and Co-founder at Fonolo.
1. What's the different between customer engagement and customer experience?
Our first question is about "customer engagement". This is a term that's recently gained traction in the industry as the successor to "customer experience". Gartner defines a "customer engagement center" as having the expanded goal of "delivering the appropriate business rule to determine the next best action, information or process with which to engage the customer."
Is there really a strong case to be made that this is a meaningful distinction between customer engagement and customer experience? Or are the analysts guilty of playing semantics?
Some of our analysts say the underlying meaning is the same, others prefer to stick with experience and some say that engagement is reflective of the channel / technology.
See how the conversation evolves in this first discussion!
2. What can we expect from cloud-based contact centers?
According to DMG Consulting, the cloud market grew by some 224% from 2008 to 2012. Furthermore, they estimate that as of September 2013, more than 62% of organizations are using some type of cloud-based contact center solution as part of their operation. The question is simple: Is it inevitable that every call center will be cloud-based, or is there a ceiling on this trend?
Blair says that the cloud makes it easier to have the capabilities you need at a lower price point, but some regulated industries (Healthcare) are reluctant because of privacy concerns over client information.
Dan points out that, "There are a lot of people happy with their long-lived infrastructure – they have no incentive to move to the cloud."
Shai, on the other hand, sees a complete transition to the cloud. He adds, "Eventually there will be some capability that requires an upgrade and at that point, the switch to a cloud-based approach will become more and more compelling."
Keith contributes by saying that at the vendor level, the pressure from the cloud is being felt on traditional premise tools. The impact is that customers expect things to happen faster.
Hear from the experts as they share their opinions on cloud-based call centers and check out the live answer to this question.
3. Is WebRTC going to have an impact?
In terms of new technology in the contact center space, nothing has more buzz these days than WebRTC. The promise is very appealing, a truly seamless transition from a web or mobile interaction to live voice. But is the technology ready for primetime? And is there an appetite in the call center to support another channel?
Dan Miller starts the conversation by stating that we're not after the term, we're primarily concerned with the frictionless transition from a static way of interacting with a browser to interacting with other individuals using the methods we prefer. This has nothing to do with WebRTC.
Bair says, some of it does have to do with WebRTC because it's making it easy for developers to do some innovative things.
Shai has a less positive view on this subject.  He states that in the case of a typical call center, WebRTC doesn't solve a burning problem, in facts it adds a layer of complexity that's scary for call center folks. (e.g., a broken microphone, bad internet connection.)
4. Is social media adding or taking away from the customer experience?
Social media has had a huge impact on customer service. To put it simply, customers have been given the power to publically shame a company whenever they have a frustrating experience, and that has put pressure on call centers to deliver a better customer service experience. Most people think of this as a beneficial shifting of power back to the consumer.
Shai starts the conversation with an interesting story. From the consumer perspective, social media is effective for shaming companies and forcing them to respond, however from the brands perspective it feels like a loaded gun is pointed at them. The industry has had to mobilize to meet this challenge.
Blair follows with her own experience about waiting on hold with an airline (this occurred just one week before the hangout). This story leads to a great point from Keith on how social media has allowed us to "game the system".
The session wraps up with a question that came through Twitter:
@Fonolo Where do you see Customer Collaboration adoption i.e. the ability for an agent to share their screen with the customer & vice versa?
Dan answers the question with explaining some use cases and how it's getting easier to do.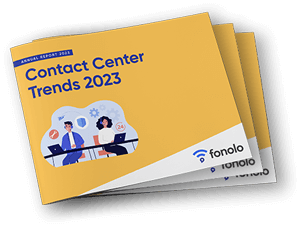 Trend Alert! Contact Center Industry Predictions for 2023
This report offers perspective on where the contact center industry stands today, plus our trend predictions for 2023.