I just returned from Frost & Sullivan's Contact Center Executive MindXchange, where I had the pleasure of interacting with many leaders in our industry. Over three days, vendors showed off their newest features, and executives shared what issues challenge them today and what they worry about down the road.
On the flight home, I spent the time looking through my notes trying to find larger patterns. We cover "trends" on this blog quite often (e.g. Top 10 Customer Experience Trends, Top Contact Center Trends). What I want to talk about today are "mega-trends", which I define as bigger strategic patterns that drive multiple, more focussed, trends.
These 3 mega-trends are the most powerful forces in our industry today.
1) Consumer Expectations Get Higher and Higher
A small number of leaders in customer service are setting a very high bar for the rest of the industry. I attended a keynote given by Tammy Mcleod, Chief Customer Officer for Arizona Public Service (utility company). She said, "Consumers have seen Amazon and Zappos … now they want that level of service from everyone, it doesn't matter that we're a utility…".  The next day Banafsheh Ghassemi, VP of Customer Experience for the American Red Cross, echoed that theme in her keynote: "People expect Amazon-level service."
While other contact centers are trying to catch-up, Amazon is raising the bar even more. Their new "Mayday" service, which allows customers to connect for live video chat with an agent from their Kindle, is technically remarkable. It's also generated more buzz than any recent customer service feature that I can recall.
With consumer expectations at such a high level, how will contact centers rise to meet this challenge? (Especially when most organizations don't have Amazon-sized resources at their disposal.) A good starting point is an understanding of what drives the best customer experience. Check out these 20 stats for helpful hints!
2) More Channels, Used by More People
There are more communication channels connecting people and companies than ever before: phone, email, web-based chat, SMS, social media, to name a few.
A recent study reports that 77% of consumers use more than one channel when seeking service, so a key ingredient to happy consumers is offering support where and when they need it. With 88% of all organizations delivering a multi-channel service experience, the differentiating factor will now be in the quality of those interactions.
Forrester's Kate Leggett (one of our "Top Contact Center Analysts to Watch") is a great source of this kind of information. From her most recent study on channel choices:
Consumers want to use more, rather than fewer communication channels for customer service.
Consumers are using a set of new channels that were not significantly used 3 years ago. (For example SMS, chat agents, click to call, screen sharing, virtual agents, etc.)
Online and digital communication channels are becoming increasingly utilized for customer service.
It can be very tricky to understand how different types of customers use different channels for different purposes. The need to understand how a multi-channel experience comes together has given rise to the art of "Customer Journey Mapping", which many now consider an essential tool to analyze and improve contact center performance. Here are 5 things to know about customer journey mapping.
3) Live Agent Conversations Get More Focussed
When it comes to customer service, there will always be a role for a live conversation with a company representative, whether that conversation is over the phone, text chat, VoIP, WebRTC or other methods in the future. Yes, the rise of self-service options decreases the number of transactions that need a live conversation (as both the tools get better and consumers get more comfortable with them). But, there's always going to be cases where self-serve tools fall short. This is what I mean by the live agent channel getting more "focussed". The transactions that end up with a live agent are going to be more complicated and more likely to involve an upset customer. These are precisely the "make-or-break" moments for a brand.
The best data I've seen on this front comes from a study done by American Express called the Consumer Service Barometer. It looked at channel preferences based on the nature of the inquiry. For "simple" inquiries (like "What's my balance?") online self-serve and email were the clear winners. But the balance shifts dramatically when the inquiry gets more complex and "live agent" becomes the dominant choice. See my earlier post "3 Best Practices for Building a Multi-Channel Contact Center".
Turning again to Kate Leggett, her study states, "Voice is still the most widely used channel, with a 73% utilization rate. This percentage has not changed in the last 3 years."
Here are more resources for understanding the importance of live agent conversations: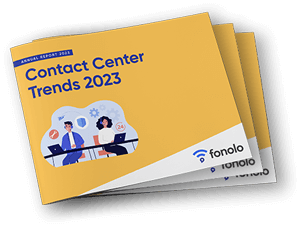 Trend Alert! Contact Center Industry Predictions for 2023
This report offers perspective on where the contact center industry stands today, plus our trend predictions for 2023.