Last week, Fonolo hosted yet another Google Hangout to discuss the state of customer service from the perspective of call center leaders. This fabulous panel of front line experts shared their comments and stories on four topics: social media, call volume spikes, agent culture and mobile. To save you some time, we've extracted video snippets from each topic.
Let's take a quick look at the panel: Ashutosh Anil Leader & Strategy Consultant – Customer Experience, Chris Bright CEO at Customer Voodoo, Scott McIntyre Chief Instigator at Infinite Green Consulting, and Shai Berger CEO and Co-founder at Fonolo.
Social Media
One of the big challenges for call centers over the last 5 years has been the role of social media. Customers have been given the power to publically shame a company whenever they have a frustrating experience, and that has added pressure on call centers on how to respond accordingly. In this segment the panel discusses some of the best and worst moments in dealing with social media and they overcame some of those challenges. Learn how social media can have an effect on call center volume, brand perception and business processes. You also learn how BestBuy experienced a positive ROI in the retail space.
Social media is a double-edged sword for the contact center space.
Call Volume Spikes
Keeping a call center staffed to right levels can be very tricky. If you have too few agents, you get long hold times, angry callers and burnt-out employees. But if you have too many, you can blow your budget. A sudden spike in call volume can be a call center's worst nightmare. In this segment you'll hear stories about the worst spike these leaders have seen and how they handled it.
These questions on automation tools and a concierge team will also be addressed.
@Fonolo – any experience of handling call center spikes using some kind of automation? #CXStory
Agent Culture
When it comes to managing a call center, the human side of the equation has always been the toughest. In this segment you learn about the challenges these leaders experienced with the new generation of employees, also known as the millennials.
The panel discusses common characteristics of a millennial, gamification and so much more. You'll get a good understanding of how to handle this generation in this segment!
The future on how to performance manage a group of millennials will be to give them the tools that they're already used to using.
Mobile
For today's consumers, the smartphone is the channel of first choice when it comes to customer service. But, for the most part, mobile apps exist in a silo totally separate from the contact center.
The panel discusses successes and failures they've experienced in connecting these two worlds. Learn how companies are missing opportunities in properly engaging with end-users using mobile apps. Also learn how the use of text/SMS are coming into play.
Then some great feedback from the audience…..
@Fonolo #CXStory Thank for the great panel discussion.

— Lisa
@Fonolo @infinite_green @customervoodoo @ferrons @Ashutoshanil @shaiberger Interesting conversation so far.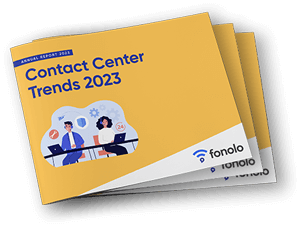 Trend Alert! Contact Center Industry Predictions for 2023
This report offers perspective on where the contact center industry stands today, plus our trend predictions for 2023.