Call Centre Week Canada will be taking place on April 28th and 29th in beautiful Toronto. I am very excited to be speaking there alongside Mark Edelman, VP of Member Services at 1st United Services Credit Union (1st USCU).
The credit union deployed Fonolo's call-back solution in 2013 on the web, mobile app and through inbound calls. The call center has undoubtedly seen impressive results on a number of fronts! By adding Voice Call-Backs and a Web Call-Backs (formerly Visual IVR) they managed to engage a younger demographic with click-to-call-back, and by adding Voice Call-Backs for inbound calls members can enjoy a better customer experience without having to wait on hold. This increased engagement has led to over $10M in new loans!
While that's a terrific headline, there is another aspect of their Fonolo deployment that is also worth discussing: the use of call-backs as an "insurance policy" against an unexpected agent shortage.
How Can Call-Backs Provide "Insurance"?
One of the main tasks of a call center manager is to properly set staffing levels to handle calls. This is harder than it sounds because it depends on aligning two things: call volume and agents on duty. Both of those things usually follow predictable patterns, but not always. What happens when there's an unexpected spike in calls (due to press coverage, a product recall, etc.)? Or what happens when there's an unforeseen drop in agent attendance (due to illness, weather, etc.)? Usually, the consequence is longer hold times (i.e. higher ASA), lots of red numbers on the Service Level report, and unhappy customers.
A Real-World Story
During the winter of 2013, 1st USCU experienced just this sort of event when a number of agents fell ill with the flu. However, instead of a drop in customer satisfaction, they simply used Fonolo's In-Call Rescue to replace hold-time with a call-back! Callers didn't even know that the center was short-staffed. Mark explains that "Fonolo turned a negative into a positive."
You can watch a 2-minute video about that here:
[fonolo_overlay_video src="68651684″ title="Video: How 1st USCU Uses Call-Backs (1:53)"]
If that caught your interest, I hope you can join us in Toronto on Apr 28th to hear Mark speak about his experiences with Fonolo.
For my segment of the presentation, I will be talking about some exciting new features that we've been working on here at Fonolo.
Mark and I will both take questions from the audience. And if that's not enough, you'll also get one of our world-famous "Fonolo Crunches" chocolate bars.
See you there!
– Shai Berger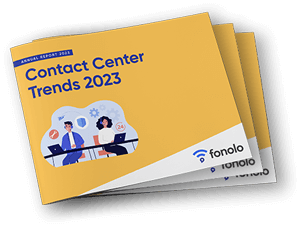 Trend Alert! Contact Center Industry Predictions for 2023
This report offers perspective on where the contact center industry stands today, plus our trend predictions for 2023.