Every business strives to do the best possible job acquiring and keeping customers. Doing those two things consistently, and doing them better than the competition, is no small challenge. Yet, many businesses lose customers every day through the simple act of putting them on hold. This is an entirely preventable source of customer dissatisfaction.
The best way to eliminate hold time is to add call-back functionality to your call center. Call-backs improve customer satisfaction and reduce churn by:
•  Making the call center experience more enjoyable.
•  Reducing abandonment rates.
•  Converting more web and mobile visits into calls.
Traditionally, call-back solutions have been expensive and difficult to deploy. Today, Fonolo offers a cloud-based call-back solution that is quick to deploy, and very affordable.
The Call Center Experience Is Critical to Customer Loyalty
One of the easiest ways to lose a customer is through a poor call center experience, as confirmed by study after study. YouGov showed that 76% of consumers said that "just one unpleasant contact center experience was likely to make them take their business elsewhere". A recent Zendesk survey revealed that 35% of customers stopped doing business with a company after a poor customer experience. And yet another study tells us that 6/10 customers have ditched a company because of poor telephone customer service.
Consumer expectations are extremely high these days and the competition is often only a click away.
Long Hold Times Are a Top Complaint
If you ask consumers what can ruin the call center experience for them, hold time is consistently at the top of the list. Consider a survey done by Consumer Reports on "Top Gripes" related to phone-based customer service (shown below). Of all phone related complaints, "can't get a human" and "hold time too long" are ranked first and third.
To make matters worse, social media has empowered customers to publicly vent about long hold times with minimal effort. Just check out onholdwith.com, a site that collects tweets from people stuck on hold (sample tweets shown below). The effect of social media is that a single negative experience can drag down a company's brand for months after the event. The pressure has never been higher for call centers to be at the top of their game, every day.
Find out how to reduce average hold time by downloading the full report.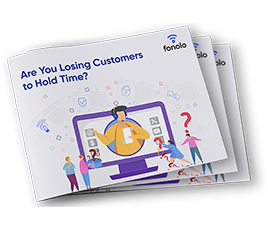 Are You Losing Customers to Hold Time?
Download our free whitepaper and learn about the best way to eliminate hold time and improve the customer experience.