When it is well thought out and executed properly, outsourcing your customer service can be a dream come true for you and your customers. On the other hand, it can also be an absolute nightmare that can wreak havoc on your reputation for years to come. If you look back to early 2001, several of the major computer manufacturing organizations shifted their customer service to call centers overseas. The idea was simple: customer support centers on foreign shores are cheaper. Within a few years, Dell, Gateway, and HP moved their operations back in house due to an overwhelming amount of customer complaints.
Let's look at what happened and how can you avoid these mistakes with your business.
Communication Barriers (the obvious one)
Often times, when you call customer service, you are frustrated. You are looking for someone to vent to. You want someone who can empathize with your situation. Most importantly, you want someone who can easily communicate with you.  In Dell's case, customers complained about the barriers to effectively communicating with support representatives who had a thick accent. This issue has gotten lots of attention over the past decade and for the most part, it has improved. Some companies go as far as to offer "American Accent" courses to new support employees.
As a perspective outsourcing client, this issue can easily be dealt with long before you bring an organization in to talk logistics or cost. Do your research and find some entities that already use your potential service center. Then, take some time to call that support center yourself. Call several times per day over a period of a week. In most cases, you probably won't be able to take the call all the way through resolution, but you'll get a better idea of accents you would be working with.
Scripts
The second mistake revolved around a system designed to make support calls easier. A call center script is a workflow used to guide the support representative down a path to resolution. The customer service team was instructed to follow the script and not to deviate. The problem that Dell ran into was that their reps did exactly what they were asked. Their inability to step outside of the script lead to frustration from customers. People felt they were wasting time going through a long script when the solution was obvious.
For example, a person who was an IT engineer by trade had to call in a simple warranty request to have computer monitor replaced. Through their knowledge as a professional, they knew the monitor was broken and would need to be replaced. The engineer called customer service only to be lead through a series of low level steps that had no effect on the monitor.  When they would tell the support rep why they knew the monitor was broken, the rep would listen and then continue through the script. The rep would eventually get to the point of authorizing the monitor's replacement, but only after going through the whole troubleshooting script. This didn't just happen to IT engineers. These were often common sense issues that took way too long to resolve.
When you consider outsourcing, look for an organization that offers script support, but also trains their representatives to think on their feet. From 2008 through 2013, I sold outsourced overseas IT customer service support to various organization and institutions in the Midwest. At my former place of employment, we stressed listening to the customer as your guide on whether or not to use the script. Essentially, if the person on the line sounded like they had performed some advanced troubleshooting then take their word and do what needed to be done to resolve the problem.
Other Missteps
We looked at a few of the missteps that Dell and other computer manufactures encountered when they outsourced customer service overseas. There are many other factors to look at as well including multiple sources of support (i.e. phone, email, social media) and measuring your response time. Check out www.greatcustomerservicehq.com for more insights into improving customer service across your organization.
Guest Blogger: Mike Daugherty
Mike Daugherty has successfully formed and sold two technology companies. While he has a talent for Information Technology, his passion is education and helping schools succeed. He has spent much of his professional career mastering the art of customer service, personal productivity, and how to make the most of the time you are given on this earth. Check out his customer service blog at www.greatcustomerservicehq.com.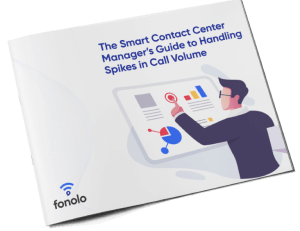 How to Manage Call Spikes in the Contact Center
Download this free guide to learn how to protect your contact center from call spikes.