Rapid change brings uncertainty. If you're in the communications technology space, chances are you're being inundated with new options that are making the path to success a difficult one. That's why the International Avaya Users Group (IAUG), the largest customer-led communications technology community in the world, is gathering thousands of market and thought leaders to make sense of it all.
Join them April 27-May 1, 2014 in Dallas, Texas for IAUG CONVERGE2014 – the leading industry event for broad-based communications.
IAUG CONVERGE2014 will address:
Avaya's current place in the market and its roadmap for new and existing offerings
How to benefit from the BYOD and mobility movement, without compromising network security
Strategies to overcome the myriad of SIP implementation challenges to realize ROI
The ins and outs of the Cloud and how to incorporate it into your organization's planning
Efficient and cost-effective ways to make your enterprise technologies integrate with one another more seamlessly
And so much more
Fonolo will be at booth #201 in the Solutions Expo, where we'll be featuring our 100% Avaya-compatible call-back solutions and of course yummy chocolate bars! Fonolo eliminates the need for callers to wait on hold, allowing contact centers to improve the customer experience, reduce cost-per-call, and lower abandonment rates. Customers can also add call-backs, virtual queuing and Web Call-Backs (formerly Visual IVR) to their existing Avaya platform.
We look forward to hearing about your IT business needs in Dallas.
Visit the IAUG website to learn more!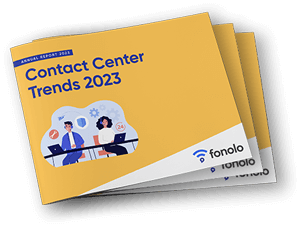 Trend Alert! Contact Center Industry Predictions for 2023
This report offers perspective on where the contact center industry stands today, plus our trend predictions for 2023.