Our calendars offer so many opportunities to recognize those that are important to us: Mother's day for the mothers, Family day for the kids, Secretary's Day for the Admin staff. Yet, there is no long weekend set aside to appreciate our customers. How could this be? How could Hallmark so unkindly discard the heart of all contact centers? You don't need a day off work to celebrate your customers' worth. As a call center professional, you can make a difference and show appreciation for your customers with these 4 simple tips.
This article will outline 4 ways you can show appreciation for your valued customers.
1. Engage Your Customers
A CEI survey revealed that 86% of customers would pay for a better customer experience, but only 1% of them feel that their vendors are consistently meeting their expectations. This is something that you can take advantage of and ensure that your customers are happy so that they keep coming back.
You should take advantage of every opportunity that you have to connect and engage with your customers. Consider the fact that your one message may be the first one they receive on a grey Monday morning. Make them feel special and appreciated, while prioritizing their needs. Ultimately, if you are able to meet your customer's expectations, they are much more likely to stay with you. Be the one percent.
2. Carefully Listen to Customers
There is no relationship out there than can survive if it's one-sided. Take the time to be a good listener and pay attention to what your customers are saying. A Gartner study conducted revealed that the majority of customer service interactions are no longer person-to-person. The study stated the following:
Over the last decade, organizations have disengaged with customers by moving to lower-cost channels such as websites, portals, interactive voice response (IVR) and other forms of self-service so that over 80% of customer service interactions now no longer involve talking to an employee.  
That means that you hold the power of the 20% that still rely on agent interaction. Don't just shrug off their concerns as another complaint and go on with your day. Even if you are not able to provide a solution, customers will appreciate the fact that you try to do something for them. Be an active listener and never try to cut off your customers while they are talking; let them express their concerns first and then address them accordingly. Sometimes, just listening and understanding is enough to make someone feel better about a bleak situation.
3. Aim for First Call Resolutions
Too many customers have their issues unresolved, even after they ask for help. A study by Forrester revealed that 42% of service agents are unable to properly resolve customer issues. This is an alarmingly high number, and you should take some time to dive in and find out what the issue is. Talk to your customers and let them know that you are doing everything you can to solve the problem. Listen to what the customer is saying and ask them to allow you some time to find a resolution. Once you find it, promptly call them back and provide them with the right answers. If you can't find the solution, still call back and update your customers. People appreciate knowing what's going on and will be less harsh on those that strive to go out of their way to take care of a problem.
4. Encourage Self-Service
You are responsible for understanding and acknowledging the needs of your customers. While you can't give them everything they want, you want their interaction with your brand to be as smooth and pleasant as possible. This means you need to strive to deliver a flawless customer experience as often as you can.
Don't wear yourself out, though. Be sure to take advantage of customer service tools that you have at your disposal. You can implement a digital guidance tool, such as WalkMe, to give your customers the direction they need to accomplish their own personal tasks. Do everything in your power to deliver a special customer experience. You'll be amazed at how successful you can be when you put your mind to it.
To Sum Up..
This is just a springboard for what you can do for your customers. Take this time to think about your organization's relationship with customers and take them to the next level to help create happy and loyal consumers.  
Guest Blogger: Amy Clark
Amy Clark is the lead author and editor of two customer service blogs – I Want It Now, which examines the era of instant gratification, and Self Service Central, which provides her thoughts on how best to help customers assist themselves online . She also serves as Customer Success Director at WalkMe.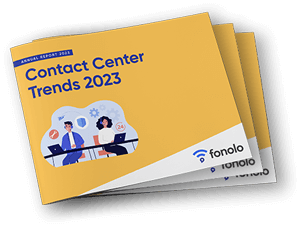 Trend Alert! Contact Center Industry Predictions for 2023
This report offers perspective on where the contact center industry stands today, plus our trend predictions for 2023.