Why do people hate call centers so much? Usually for reasons we can all relate to: wasting valuable time on hold, having to navigate frustrating phone menus, the dreaded annoyance of repeating information to agents, among others. The call center experience is more complicated than it needs to be and it's taking a toll on customer service.
The facts don't lie!
YouGov showed that 76% of consumers said that "just one unpleasant contact  center experience was likely to make them take their business elsewhere". A recent Zendesk survey  revealed that 35% of customers stopped doing business with a company after a poor customer  experience. And yet another study tells us that 6/10 customers have ditched a company because of poor telephone customer service.
Tune in to today's webinar and learn how to make the call center experience more enjoyable by easily eliminating hold time. We'll also talk about the three mega-trends and cover several real-world case studies.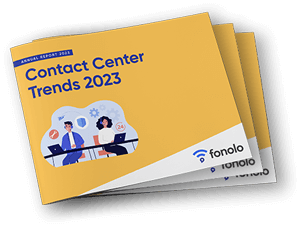 Trend Alert! Contact Center Industry Predictions for 2023
This report offers perspective on where the contact center industry stands today, plus our trend predictions for 2023.