Call Center Week is an event for anyone who cares about call center innovation or what the future of the contact center will look like. It is one of the industry's most popular shows and the Fonolo team gets excited about it every year. This year you can catch us in the Exhibit Hall at booth number 66.
You can also watch Fonolo's CEO, Shai Berger, speaking again at this year's event! Together with Chris Abel, Director of Contact Center Operations at Bright Horizons Family Solutions, they will tackle the issue of call center spikes and how to maximize performance and productivity. You can catch this session on Thursday, June 12th in Track D at 2:05 PM.
Last year Call Center Week attracted 25 Fortune 100 companies and this year they've secured the highest percentage of end-user speakers in the industry! Still not convinced? Check out this nifty infographic on the top 10 reasons to attend Call Center Week in Vegas!
Bonus #11 – Fonolo will be there shooting rockets and eating chlorate. Come by and say hello.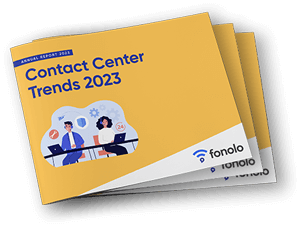 Trend Alert! Contact Center Industry Predictions for 2023
This report offers perspective on where the contact center industry stands today, plus our trend predictions for 2023.