The industry's largest event, Call Center Week, is only a few weeks away and the excitement is definitely building. Fonolo will have a booth in the exhibit hall of course, and I'm really looking forward to meeting and chatting with folks from every aspect of the contact center universe.
I'm especially excited to be speaking at a session along with Chris Abel, Head of Call Center Operations at Bright Horizons. The title is The #1 Way to Smooth out Volume Spikes in your Call Center. If your call center ever struggles to deal with call volume, then you won't want to miss this. Mark your calendars for June 12, at 2:05pm!
Even the best service providers experience periods of peak volume in their call center. When that happens, hold times inevitably go up and abandon rates become an issue. This is the reality for most call centers, and it can have a significant impact on the bottom line. In the conference session, you'll hear how one company found an ideal solution.
A Great Success Story
Bright Horizons is a leading provider of child care services that generally delivers a high level of service to its 31,000 monthly callers. However, due to the nature of their business, their call center experiences spikes in volume on holidays and long weekends resulting in long hold times, a high number of abandoned calls, and lost revenue.
Faced with this problem, they looked at a number of solutions, which essentially boiled down to two approaches:
Staff up for peak periods, or
Implement a system to eliminate hold time
For Bright Horizons, staffing up for these peak periods would result in the call center being overstaffed at other times, leading to higher operating costs.
It won't spoil the plot to say that they chose Fonolo's In-Call Rescue solution to help when hold times became a problem. Offering to give customers a call-back provided their callers with a great experience while reducing the rate of abandoned calls by a whopping 33%!
SIP Trunking Made It Easy
The Bright Horizons call center runs Avaya Communication Manager, which has full SIP trunking capabilities (via Avaya Session Manager) – an ideal deployment scenario for Fonolo's call-back solutions. When callers "press 1″ opting for a call-back, that call is transferred – over SIP – to the Fonolo cloud. Then, when an agent is available, Fonolo calls the customer and bridges the call with the agent, again using SIP. (Learn more about our recent partnership with Avaya here. And if you have an Avaya call center, make sure to register for our special webinar below.)
Learn More
Want to learn more? Attending our session at Call Center Week conference and you can hear more details directly from Chris Abel, who oversaw the deployment. If you can't wait, you can read the case study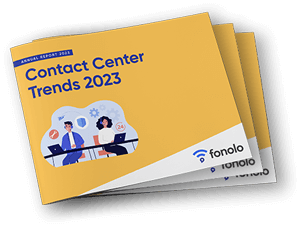 Trend Alert! Contact Center Industry Predictions for 2023
This report offers perspective on where the contact center industry stands today, plus our trend predictions for 2023.