Satisfying customers is a key challenge for every service company, and it's critical to operating a successful call center. The key to both maintaining and growing customers boils down to how satisfied they are with your service. Your mission as a call center is to keep service costs low, while keeping consumer satisfaction high.
Here are three ways your contact center can drive high customer satisfaction.
Keeping Employees Happy
With all the focus on customer service, some organizations miss the mark with their own employees. The number one way to keep your customers happy is to keep your employees happier! Keeping employees cheerful depends on a number of factors including; a well-developed company culture, access to user-friendly and intuitive front office technology, and ensuring that your employees have a voice. Ultimately, engaged employees will create satisfied customers.
Happy employees also mean a lower percentage of agent churn. High turnover results in inflated call center costs and a loss of qualified agents. Simple changes in team culture and job quality can easily help reduce your turnover rate. Here are some obvious reasons for high employee turnover:
The work is often routine and tedious
The level of compensation is typically minimum wage
The psychological tension is high
Resolving Calls the First Time
If you ask customers what frustrates them the most, nearly half (42%) will say, "having to speak with multiple agents and start over every time". Resolving customer issues the first time is the single biggest way to improve customer satisfaction. Studies reveal that caller satisfaction ratings will be 5-10% lower when a second call is made for the same issue.
Having the correct CTI, CRM and technology tools in place are imperative to improving First Call Resolution (FCR).
Eliminating Hold Time and Using Call-Backs
Eliminating the need for customers to wait on hold not only increases customer satisfaction, it also reduces costs for call centers. This really is a win-win solution that many call centers are missing out on. When callers are on hold it increases telco costs and unfortunately, many will end the conversation before it even begins. In fact, 60% of customers will abandon a call after one minute of waiting on hold. Instead, contact centers could offer callers the option to receive a call-back rather than wait on hold.
SoftwareAdvice.com performed a survey regarding whether customers would rather wait on hold or receive a call-back when an agent becomes available. Not surprisingly, 61% of customers prefer a call-back. Here's more information on how call-backs work.
Customer Preferences for Callback vs. Waiting on Hold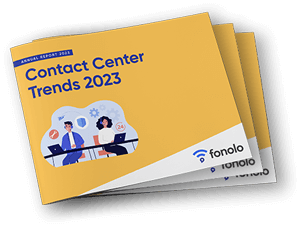 Trend Alert! Contact Center Industry Predictions for 2023
This report offers perspective on where the contact center industry stands today, plus our trend predictions for 2023.