If a picture is worth 1000 words, then these images can't be overlooked!  Providing exceptional customer service can be a difficult challenge, but is attainable with the right know-how. It really boils down to understanding the types of customers you have and how to get them to be evangelists of your brand.  Here are 4 pictures that explain the different types of customers and which ones matter most to your business.
The Social Customer
It's an understatement to say social media is making an impact on customer loyalty. According to Sprout Social, 74% of consumers rely on social networks to guide purchase decisions.
Companies cannot afford to avoid the social customer as their influence is undeniable. According to Help Scout, 58% of Americans perform online research about products/services and 80% of the customer service reviews they read will be negative. The balance of power has clearly shifted – consumers own the stage and are voicing their dissatisfaction for all to 'hear'. These complaints are permanent, searchable and spreading like wild fire. One negative comment about your brand will ultimately reach thousands of potential customers, prospects, and competitors.
The Happy Customer
Happy customers (aka satisfied customers) aren't evangelists of your brand, but they also don't hate you. They simply had a need, you fulfilled it to their expectations, and the story ended there. This means that your brand may never be brought up in conversation, leading to no positive word-of-mouth and no referrals. Happy customers are great to have, but really what you want are ecstatically thrilled customers, not just satisfied ones.
The important thing to remember is that happy customers can easily become loyal customers if they are well taken care of. So in the end, they can often represent your greatest source of long-term growth.
The Referring Customer
Loyal customers will represent no more than 20% of your customer base, but will make up more than 50% of your sales. Growing businesses need to focus their efforts on the loyal customer, also known as your brand evangelists.
These are the customers will not only continue to buy, but also continue to refer.  Not surprisingly, poor customer service is one of the biggest deterrents to brand loyalty. 72% of consumers say service drives loyalty and 48% say that the most critical time to gain brand loyalty is during the first impression. Once they're happy, 78% of consumers will spread the word and tell others!
The Frustrated Customer
Nothing frustrates customers like waiting on hold. Hold times are one of the most common threats to customer satisfaction. Callers feel – in fact, they know – that their time is not respected when they are subjected to long periods of waiting.
Even though customers have other avenues for contacting you (social media, mobile apps, etc.), the voice channel still remains the most widely used. Specifically because live assistance on the voice channel has the highest satisfaction rate, with 69% saying their questions are fully addressed over the phone.
Your IVR could also have a negative impact on customer satisfaction. In a recent survey, 60% of respondents said they prefer to bypass the IVR and go straight to a live agent. But staffing just to cover periods of high volume is not an economical approach when dealing with peak times in the call center. This is why many contact centers today are employing a call-back option.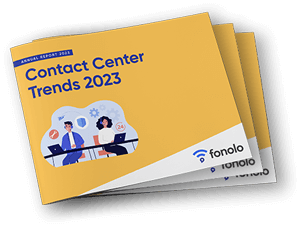 Trend Alert! Contact Center Industry Predictions for 2023
This report offers perspective on where the contact center industry stands today, plus our trend predictions for 2023.