One of the most commonly used metrics in the modern contact center is the "service level". This metric is composed of a pair of numbers: a percentage value and a time value in seconds. So, for example, an "80/20" service level means 80% of calls answered in 20 seconds.
Last week I wrote about how many call centers adopt a service level without a very rigorous process. Some simply adopt "80/20" because they feel it is some kind of industry standard. But this metric is too important to be chosen without proper consideration.
Your target service level should be based on what your call center can reasonably achieve given your staffing level and the expected call volume. So lets say you have assembled the necessary data, how exactly do you get from staffing numbers and call volume numbers to service level numbers? The answer is with the lost art of Erlang.
The Lost Art of Erlang
The Erlang equations are traffic modeling formulas developed by A.K. Erlang, a Danish mathematician, roughly a hundred years. His work is the basis for all major call center forecasting and workforce optimisation (WFO) and workforce management (WFM) solutions available today.
When I speak to veterans of the call center industry, they tell me that familiarity with Erlang theory used to be mandatory for anyone managing a call center. Those same veterans complain that today's workforce management packages have buried the equations in layers of abstraction and graphical interfaces. As a result, many call center managers working today don't have that "feel" for capacity scheduling that one can only get by working directly with an Erlang tool.
Fortunately, there are many easy (and free) ways to get back that "feel". For example, you can experiment with this Excel macro you can download here.
A video demonstration
Here's an even easier way to get some understanding about the importance Erlang. Below is an excerpt from a presentation given last year by Brad Cleveland. Brad wrote the industry's most widely read management book, Call Center Management on Fast Forward. As he says in the video "this is the heart and soul of what a call center does…"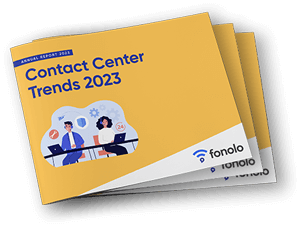 Trend Alert! Contact Center Industry Predictions for 2023
This report offers perspective on where the contact center industry stands today, plus our trend predictions for 2023.