In a few years, the term "multi-channel" will be a relic. Why? Because there will be no "uni-channel" contact centers!
Already we see that 88% of all organizations are delivering a multi-channel service experience. And that's a good thing because a recent study reports that 77% of consumers use more than one channel when seeking service.
How do you know if your call center is keeping up with your industry peers? Read more to find out.
Most Agents are Already Handling Multiple Channels
In a recent Enterprise Connect Webinar (replay available here) data from a new survey of contact center decision-makers was presented by Art Schoeller of Forrester Research (one of our "Top Contact Center Analysts to Watch"). As you can see below, more than half of the 633 contact center decision-makers surveyed said that most of their agents were handling multiple channels. Nearly a third said that all their agents were multi-channel.
You can read more about Art's presentation in this post by Eric Krapf.
A BILLION Smartphone-Enabled Consumers
A BILLION consumers will have smartphones by 2016. US consumers alone will have 257m. (This is according to "Mobile is The New Face of Engagement" by Forrester.) This transformative technology will have an enormous impact on how customer service is delivered.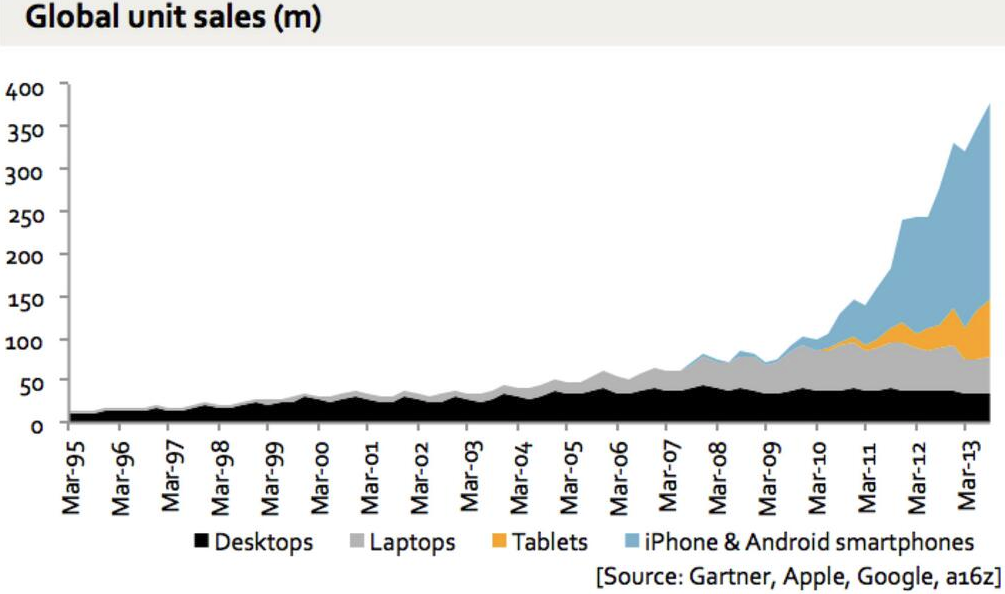 (That great chart is from  Benedict Evans).
This quote from Gartner's Michael Maoz really captures the importance of the mobile channel:
The mobile channel is emerging as the consumer's primary choice for all possible service activity with service providers. The use of the mobile channel will accelerate once customers realize that their needs will always be met through this touch point. Complementing mobile self-service with assisted-service is a natural and required evolution of the mobile channel.
In short, your customers have already made the transition. The only question is, will you adjust to their new preferences, or let your competitors do it first?
The Role of the Voice Channel
How does the proliferation of channels affect the importance of voice conversations? One might think that live conversations become de-emphasized as they get "crowded out" by the other options. But the data shows us otherwise.
The Contact Center Satisfaction Index (CCSI) studied the change in channel preferences between 2012 and 2013. While email popularity dropped from 14% to 9%, the phone channel remained unchanged.
Live Agent Conversations Get More Focused
I believe that, when it comes to customer service, there will always be a role for a live conversation with a company representative, whether that conversation is over the phone, text chat, VoIP, WebRTC or other method in the future. Yes, the rise of self-service options decrease the quantity of transactions that need a live conversation (as both the tools get better and consumers get more comfortable with them). But, there's always going to be cases where self-serve tools fall short. That's what I mean by the live agent channel getting more "focused".
The transactions that end up with a live agent are going to be more complicated and more likely to involve an upset customer. These are precisely the "make-or-break" moments for a brand.
That same CCSI study revealed that voice still remains the most popular channel and this will continue throughout 2014. But we all know the problems that arise with the voice channel: IVR menus, long hold times and repeating information to agents. (More about that below.)
Focus on the Channels that Your Customers Want
With multiple channels to balance, how can you decide where to invest limited budget and energy? That is precisely the question addressed by Forrester's Kate Leggett (also one of our "Top Contact Center Analysts to Watch") in her most recent study on channel choices. Here are some the of the top points:
Consumers want to use more, rather than fewer communication channels for customer service.
Consumers are using a set of new channels that were not statistically significantly used 3 years ago. For example: SMS, click to call, screen sharing, virtual agents.
Online and digital communication channels are becoming increasingly utilized for customer service.
Voice is still the most widely used channel, with a 73% utilization rate. This percentage has not changed in the last 3 years.
Bottom line: Do Voice Right!
Both the CCSI study and the Kate Leggett report point to the same conclusion: Contact centers have to "do voice right"! That is, they need to make sure that customers can connect to agents in an efficient, pain-free way. Which means finding alternatives to those problems mentioned above: frustrating IVR menus, long hold times and repeating information to agents. And now for the good news. Fonolo tackles exactly those problems in a convenient, low cost way.
How to Handle Call Volume During Peak Times
Guest speaker Ricardo Mejia, VP of First Service Credit Union, will discuss how his call center reduced abandon rates, improved the calling experience, and seized the opportunity to better manage spikes in call volume.