When it comes to customer service, consumer expectations have never been higher. At the call center, these heightened expectations often lead to call abandonment. Simply put, customers don't want to wait on hold. (Not even one minute, according to this survey.) So if your call center has long hold times, many callers will simply abandon, i.e. hang-up.  Abandonment leads to higher repeat calling (which can strain the call center system) and, of course, dissatisfied customers.
What can you do if your abandonment rate is too high? Here are some suggestions.
Hire More Agents
The obvious way to lower abandonment rate is to lower hold time, and the obvious way to do that is to hire more agents.
If you have the budget, you can just add agents until your abandonment rate shrinks down to your target level. But of course, budgets in the real world are always constrained, so this is not usually a viable solution. That's especially true if your call center has occasional volume spikes. If you staff to the peak volume, you will have a lot of excess agent capacity at other times.
Offer Other Channels for Communication
Already we see that 88% of all organizations are delivering a multi-channel service experience. And that's a good thing because a recent study reports that 77% of consumers use more than one channel when seeking service. By offering support over other channels, you can remove some of the burden on your call center and hopefully see fewer abandoned calls.
However, you should be careful about taking resources away from the voice channel to support new channels. Research shows that the live agent conversations are still the most critical for maintaining customer loyalty. The Contact Center Satisfaction Index (CCSI) studied the change in channel preferences between 2012 and 2013. While email popularity dropped from 14% to 9%, the phone channel remained unchanged.
With multiple channels to balance, how can you decide where to invest limited budget and energy? That is precisely the question addressed by Forrester's Kate Leggett (also one of our "Top Contact Center Analysts to Watch") in her most recent study on channel choices. Here are some the top points:
Consumers want to use more, rather than fewer communication channels for customer service.
Consumers are using a set of new channels that were not statistically significantly used 3 years ago. For example: SMS, click to call, screen sharing, virtual agents.
Online and digital communication channels are becoming increasingly utilized for customer service.
Voice is still the most widely used channel, with a 73% utilization rate. This percentage has not changed in the last 3 years.
For more on this, see my recent post For Contact centers, multi-channel is the new normal.
Offer a Call-Back
One of the single best ways to reduce abandonment is to offer customers a call-back as an alternative to waiting on hold (sometimes referred to as "virtual queuing"). According to Forrester, "The option to hold their place in queue and go on to do something else is highly appealing, with 75% stating a preference for it."
A study by Contact Babel showed that 32% of contact centers experienced fewer abandoned calls after call-backs were added. At Fonolo, we've witnessed this effect many times. Two recent examples come to mind: Nationstar Mortgage and Bright Horizons, saw a 35% and 33% decrease, respectively, in abandonment rate.
(Those two companies have something else in common: They are both running Avaya Aura call centers. If your call center is based on Avaya, you'll be very interested to read about our new Avaya partnership and how it relates to Callback Assist.)
If you want to learn more about the Bright Horizons story, you can read the case study or watch this short video:
Fonolo's call-back solution is cloud-based, meaning it's quick to deploy and highly scalable. If your call center is struggling to reduce abandon rate, you won't find an easier or more cost-effective solution to that problem.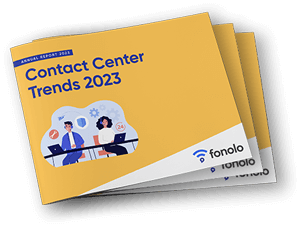 Trend Alert! Contact Center Industry Predictions for 2023
This report offers perspective on where the contact center industry stands today, plus our trend predictions for 2023.