When providing customer service, you have about 10 seconds to start building a relationship with your customers. There's an undeniable domino effect on building and maintaining customer relationships: Building a relationship has a long-lasting outcome on customer loyalty, which in turn leads to more consumer spending.
If a customer doesn't have the warm and fuzzies after experiencing an interaction with your brand, 62% of them will look towards to your competition. Unfortunately, customers are increasingly frustrated with the level of services they experience: 91% because they have to contact a company multiple times for the same reason, 90% after being put on hold for a long time, and 89% after having to repeat their issue to multiple representatives.
Delivering superior customer service is more important than ever. Companies that are getting it right are focusing on building better relationships with their customers.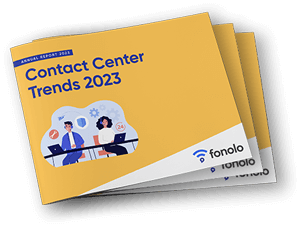 Trend Alert! Contact Center Industry Predictions for 2023
This report offers perspective on where the contact center industry stands today, plus our trend predictions for 2023.