When it comes to the contact center and customer service space, two analyst firms dominate the landscape of thought leadership: Gartner and Forrester. Let's compare side-by-side what they say about some of the leading issues of the day.
We'll take a look at some recent opinions given by the top analysts at each firm regarding the topics below and how they affect customer service and contact centers.
Cloud & SaaS
Multi-Channel
Mobile
Social Media
Cloud & SaaS
Carrier networks and contact center SaaS providers have been capable of supporting real-time reliable voice for a long time, but the on-premises equipment bias in the market has been very strong and is only now beginning to erode. Forrester data backs this up:  16% of contact center buyers indicate they will move their contact center systems to the cloud in the future.
Meanwhile, Gartner says:
Gartner has seen a steady increase in client interest in cloud-based deployments, ranging from CCaaS solutions to company-dedicated hosted solutions. Once primarily the realm of deployments of 75 agents or fewer, these solutions are increasingly gaining adoption in environments with up to several thousand agents.
In reading opinions from various analysts, it's clear there's some uncertainty the exact definition of "cloud". Does a managed services type product count? Or does it have to be truly multi-tenant?
For example, in the report cited above, Gartner says, "The emerging contact center as a service (CCaaS) model — involving hosted, multi-tenant systems — is gaining attention as cloud approaches increase." This seems like an attempt to avoid ambiguity of the word "cloud", but then they revert back to using "cloud" for the rest of the piece.
Another example: In the quote from Forrester they talk about "SaaS" instead of "cloud" as a way to circumvent the issue. However, the term "SaaS" is also problematic because, technically, it really only refers to a pricing model. And the section title for that quote was "Contact Center Infrastructure Jumping to the Cloud".
It will be interesting to see what terminology we all settle on.
Multi-Channel Customer Service
A recent study reports that 77% of consumers use more than one channel when seeking service. Luckily recent data shows that that 88% of all organizations are delivering a multi-channel service experience. But just because they are doing it, doesn't mean they are doing it well.  The consensus among analysts is that the real challenge facing the contact center is providing a consistent customer experience across all channels.
Gartner's Michael Maoz says:
Through 2015, contextual advice and support delivered through analytics systems across all channels will be the key differentiator during customer engagement…The explosion of interactive channels used to engage customers is creating a gap between what the customer knows and expects of the enterprise, and how the enterprise can intelligently engage the customer.
In that same report, Olive Huang warns that many organizations are simply not up to the task:
In 2013, only 2% of organizations will have the adequate technologies and processes in place to provide a consistent customer experience across departments and channels. Gartner estimates that from 2013 to 2015, this number will grow from 2% to no more than 20%.
Forrester's Kate Leggett says:
Customers want to use a breadth of communication channels for customer service….channel usage rates are quickly changing. Customers want consistent service experiences across these channels. They also expect to be able to start an interaction in one channel and complete it in another.
For more on this see our recent post "For Contact Centers, Multi-channel is the New Normal".
Mobile Customer Service
It's imperative for companies to figure out how to thrive in the new smartphone-dominated world. Some stats to set the mood:
What the analysts think:
Gartner says: "By 2015, at least 60% of the Internet users will opt for mobile customer service applications as their first option…"
That's a jump from what they estimate is 10% today.
More from Gartner:
The key to a successful mobile customer service strategy is not to treat the mobile customer service technology in a silo space, but to engineer consistent, differentiated, cross-channel customer experiences, while supporting the need for increased use of customer self-service by using mobile-based, location and context-sensitive technologies.
Customer service mobile applications remain nascent as more companies focus on their mobile marketing, sales and ecommerce mobility strategies. In 2014, companies will look to aligning mobile strategies, technology investments and user experiences across functional groups like marketing, customer service, ecommerce and IT.
We'll close this section with a powerful quote from Gartner's Michael Maoz:
The mobile channel is emerging as the consumer's primary choice for all possible service activity with service providers. The use of the mobile channel will accelerate once customers realize that their needs will always be met through this touch point. Complementing mobile self-service with assisted-service is a natural and required evolution of the mobile channel.
(Read the rest here.)
Social Media in the Call Center
Social media has presented both a challenge and an opportunity to the contact center. By giving consumers a public forum to shame companies who don't live up to customer service expectations, social media has put increasing pressure on the contact center. For example, take the following tweets from onholdwith.com, a site that catalogs complaints from frustrated customers, stuck on hold:
At the same time, proper use of social media channels can offload transactions from the voice channel, where transaction costs are highest.
Gartner's Jenny Sussin makes a bold prediction about this space:
By 2016, Facebook and Twitter will have their own social media engagement applications for enterprise customer service… . Now, we believe that, by year-end 2016, Facebook and Twitter will follow LinkedIn's lead and develop social media engagement applications supporting both marketing and customer service, which are the two primary use cases of the platforms for businesses.
And she further predicts dire consequence for the rather crowded space right now… "By 2016, the social media engagement space for customer service will be missing 30% of the approximately 25 vendors that exist in 2013."
Meanwhile Forrester says:
…a new crop of SaaS based social customer service solutions have gained market attention. Expect customer service operations to continue to leverage SaaS solutions to complement and extend existing capabilities.
Also see our recent post, 3 Characteristics to Look For When Hiring a Social Media Chat Agent.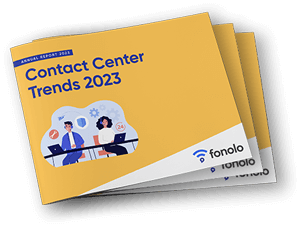 Trend Alert! Contact Center Industry Predictions for 2023
This report offers perspective on where the contact center industry stands today, plus our trend predictions for 2023.