Looking for the lastest contact center trends in 2020?
You can find the the 2020 contact center trends report here
Another Labor Day weekend is upon us, and that means fall is just around the corner.Now is a great time to reflect upon how your call center has been performing over the summer, with an eye on making changes in the coming season to enhance performance.
Here are 3 trends your call center should consider before the summer comes to a close.
1) Promote the Brand
Call center agents are on the front line of customer service. Accordingly, every call should be thought as a critical customer interaction- a chance to exceed expectations and turn customers into evangelists for your brand.
Rather than looking at the contact center as a "cost center" (a function that adds expense without adding revenue), successful companies are looking to maximize every opportunity to interact with customers. Consider the words of Zappos CEO Tony Hsieh:
"… we've found that on average, our customers telephone us at least once at some point, and if we handle the call well, we have an opportunity to create an emotional impact and a lasting memory … Our philosophy has been that most of the money we might ordinarily have spent on advertising should be invested in customer service, so that our customers will do the marketing for us through word of mouth."
2) Offer Customers a Call-Back
Implementing a call-back solution in your call center is truly a win/win. Customers love not being on hold, while call centers reap the benefits in terms of lower abandon rates, shorter handle times and a dramatically increased customer experience. It's a trend many call centers are adopting, with good reason.
3) Embrace the Mobile Future
What most consumers know (and what every analyst reports) is that the future of customer service is mobile. Today, the entire lifecycle of a customer relationship can exist on the mobile device- from browsing, to an online purchase, to self-service, and an interaction with the contact center.
If your company doesn't have a mobile strategy, now is the time to start planning the tools to interact with your mobile customer base!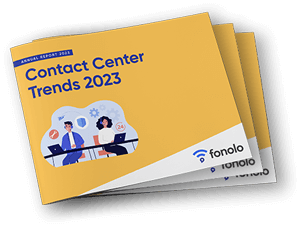 Trend Alert! Contact Center Industry Predictions for 2023
This report offers perspective on where the contact center industry stands today, plus our trend predictions for 2023.