Telecom companies conduct themselves differently from most other companies.
The perception is that since they provide a service for a defined area there is little (if anything) customers can do in order to harm them. Your only choice is to use the service or move out of the provider's area.
That said, they still must provide support to their customers and ensure customers are happy with their brand. The question then becomes, what do you do when customers don't like the service, the support or both?
Follow these four tips for guaranteed customer satisfaction:
1. Offer Self-Service Options
Give your customers the power to take their transactions into their own hands. This will help them pay bills, access their accounts and schedule maintenance. Your self-service options should automate payments and should allow a customer to schedule events regarding their service.
The more accessibility customers have the better and more satisfied they will be. It is much more enjoyable to access an account via a self-service portal without having to speak with a representative or deal with impolite or poorly trained customer service agents. On the other side, agents are now free to deal with less disgruntled customers, promoting a friendlier environment and leaving more detailed support for those who need it.
2. Add in Mobile Apps for Your Customers
Offer your customers a new way of engaging your self-service portals. Smartphones are ubiquitous these days and many people use their phones for everything. A recent study showed that 50% of smartphone users would prefer to use a mobile application for customer service issues before calling a contact center.
The more functions you add to your mobile app, the better the customer service experience will be. Fewer complaints will be filed and call center wait times will drastically lower.
Ensure that agents are also trained in the self-service portal. If your agents are unable to access the website correctly or can't navigate customers through the portal, you will have more disgruntled customers.
3. Create Forums
Customers enjoy chatting with one another, especially about customer service. People want to have a place where they can share and access the opinions of others without having to go through much hassle. The best option is to try to keep them in a forum that you monitor so you can address issues and monitor responses. Third-party review websites leave your company vulnerable to slanderous attacks by competing companies and disgruntled customers who you tried your best to provide good service to.
Adding a forum onto your self-service portal will provide you with all the necessary information to enhance your services. Customers will be more inclined to visit your forum and log in a complaint that they allow you to rectify. Otherwise, customers either call for assistance or negate your business as an option altogether. The more options you make accessible to yourself, the better.
4. Be Savvy on Social Media
The way you respond to your current customers heavily depicts how they view your company. You have no reason to not be social media-savvy and create responses and information through it.
Beginning your exploration through social media, you should ensure you are always promoting your company with sales and other discounts. Furthermore, answer questions given by customers through Twitter and Facebook. These websites provide customers with an additional avenue for getting answers outside of your website. The more friendly you are toward customers, the more positively customers will respond to your company.
Providing customers with self-service portal options is a truly positive step for any customer service department. Some techniques will be better than others, but the trial and error give you an in-depth experience.  You can make self-service adoption simpler for your customers' by offering online guidance, such as WalkMe. These services will better assist with giving your customers an unforgettable experience (for the better).
Guest Blogger: Amy Clark
Amy Clark is the lead author and editor of two customer service blogs – I Want It Now, which examines the era of instant gratification, and Self Service Central, which provides her thoughts on how best to help customers assist themselves online. She also serves as Customer Success Director at WalkMe.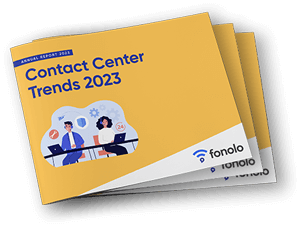 Trend Alert! Contact Center Industry Predictions for 2023
This report offers perspective on where the contact center industry stands today, plus our trend predictions for 2023.