I spend a lot of time researching and reading whitepapers in the customer service and contact center industry. Understanding changing consumer preferences and upcoming trends is essential in today's competitive environment. Plus it lets us share cool new stuff with our loyal subscribers.
To spread the love even more I thought I would share 3 whitepapers that I've thoroughly enjoyed in my readings. If you're a contact center, also take a look at the sneak peak of our slides for next week's webinar! We'll be chatting about abandon rates and CSAT levels with a special guest speaker. Hope to see you there!
Top 5 Trends in Customer Service Innovation
This whitepaper discusses the change in technology and how your customer service can keep up! The five trends it discusses are:
A 360 degree view of customer service
The rise in first contact resolution
The need for social and mobile
Improving service and sales
How to get proactive
This whitepaper was written by one of our favorite companies, Zendesk. It talks about customer service skills on the phone, through email, chat and even social media. Some practical and insightful tips are given to help you succeed in customer service.
Another great company to follow for helpful customer service tips is Parature. This whitepaper talks about how to build a quality content knowledgebase. Whether you are just launching a knowledge management system or you need some tuning up tips this whitepaper provides expert recommendations on how to help.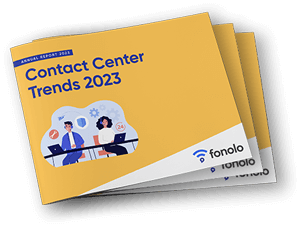 Trend Alert! Contact Center Industry Predictions for 2023
This report offers perspective on where the contact center industry stands today, plus our trend predictions for 2023.