The future of multi-channel customer service is ever-growing. According to CCIQ, 88% of companies have adopted multi-channel to keep up with increasing consumer demand. The approach makes sense: allow customers to engage on their preferred channel and make it as easy as possible for them to do business with your organization. However, it puts additional strain on the contact center in terms of staff and technical resources, even more so when customers move from one channel to the next.
From a customer experience standpoint, moving between channels can also be confusing. After all, customers have expectations of how your organization should interact with them regardless of the channel they choose, and unfortunately, it's not always possible to service customers in the same manner on every medium.
It's important to find methods in sustaining the relationship between you and your customers. Here are 3 ways to maintain customer relationships on their preferred channels:
1. Be Where the Customer Is
It sounds simple, but giving customers the power to choose how they engage with you is key to meeting – and exceeding – their expectations. Whether it's email, social, mobile, or phone, most customers will have a preferred channel. It's essential that you're present on the channel they choose.
2. Allow Customers to Pick the Level of Engagement
While it's true that self-service is the most cost-efficient and effective form of customer service, it's not necessarily what every customer wants. For some, having an agent help them with a transaction is what they need to truly feel comfortable. Whereas, other customers may prefer the exact opposite, opting entirely for self-serve. Again, giving customers the option to choose how they wish to interact with your organization is the key.
3. Solve Their Problems … Quickly!
Despite the channel, don't lose sight of the fact that every customer desires a quick resolution. Customers don't want to jump through hoops … and switch channels … to get their problems fixed and questions answered.
Regardless of the channel, empowering your front-line agents so they have the ability to resolve customer issues is paramount. With each transfer, email or call, customers lose patience with your organization, resulting in a loss of goodwill which can significantly affect your ability to retain and grow your customer base.
Solving customer problems right away is a sure-fire way to avoid issues from your customers down the line.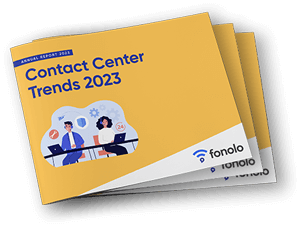 Trend Alert! Contact Center Industry Predictions for 2023
This report offers perspective on where the contact center industry stands today, plus our trend predictions for 2023.