For call centers, Key Performance Indicators (KPI) matter more than ever. Why? Because the call center is an important source of revenue for an organization and it contributes a significant cost. Accordingly, virtually every facet of its operation is measured and analyzed to help organizations increase productivity (and revenue), while minimizing expenses.
We all know that it's imperative to collect metrics, but how do you know if you're collecting the right ones? And what are you doing with them once you have the data? The trick to successfully managing metrics is to specifically identify which data points are relevant and to analyze what that data means to your organization. To make things more complicated, your contact center continues to evolve with new tools and technologies, so performance metrics will also continue to change.
What are the top metrics to track and how will they affect your performance? 
Join this enlightening panel discussion on October 2nd at 4:00 PM ET as we highlight the most important metrics that are shaping the future of the contact center.
You'll have the opportunity to tap into the minds of experts. Tweet your comments and questions to @Fonolo with hashtag #CCTRMETRICS, or comment on our live conversation streaming on Google+.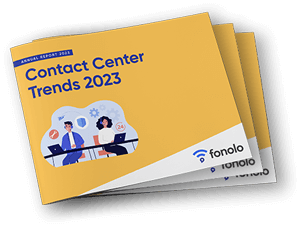 Trend Alert! Contact Center Industry Predictions for 2023
This report offers perspective on where the contact center industry stands today, plus our trend predictions for 2023.