Voice, email, Twitter, Facebook, webchat… at this point, a vast majority of contact centers (88% according to one study) are using multiple channels to interact with their customers. Each channel has its strengths, but the voice channel has a place of distinction. Below, we'll share some data that explains why. But even without considering any hard evidence, we know, at an instinctive level, why a live agent conversation stands apart. When you have a tough issue to discuss, when there is an urgent matter, when the other options have left you frustrated, we want to talk to another human to cut through it all.
The problem is, companies often don't make it easy to talk to an agent. Partly because of cost, and partly because of the technical challenges in transferring a conversation from the web to voice. That's where call-backs come in.
1) Escalation from Web or Mobile (Click-to-Call)
The idea of using call-backs to escalate to voice from another channel has been around for a long time. The oldest example of this is "click-to-call", where a pop-up window or an embedded widget on a website prompts the user for his call-back number. Most call center platforms these days have at least basic support for click-to-call including Avaya Communication Manager, Cisco UCCE, Aspect Unified IP, Genesys, Five9, Unify, InContact, Interactive Intelligence and many others.
One of the most important aspects of switching between channels is maintaining context. Customers hate starting over! More advanced implementations of click-to-call are able to transfer information from the web page to the contact center agent so that customer effort is kept low.
Other advanced features include pre-call questions (which makes the eventual conversation with the agent more efficient), real-time call progress feedback (so the customer has confidence that he'll get the call-back) and post-call surveys.
Most of the same concepts can be applied in the mobile context. Given the enormous growth in smart-phone penetration, this is an area of intense interest. Rather than adding a button or widget to the website, the company would instead add this functionality to its mobile app through custom development or (more easily) a pre-built component.
2) Escalation from Chat
The use of text-based chat for customer service has exploded in recent years. According to a recent report from Forrester, its use increased by 43% between 2009 and 2012. Contact centers are drawn to live chat because a single agent can handle multiple simultaneous chats, as opposed to only one voice call (which leads to lower average cost-per-call or cost-per-contact). Another reason live chat has been so popular is that it aligns well with the new communication habits of consumers, especially younger ones.
Many chats reach a point where the conversation has to continue with a phone call. There's nothing wrong with that, as long as the customer doesn't have to "start over" when calling in. Of course, call-backs are a great solution to this.
3) Escalation from Social Media
We've written quite often about the impact of social media on customer service (see this blog post or this blog post). The bottom line is, customers have been given the power to publically shame a company whenever they have a frustrating experience, and that has put pressure on call centers to deliver a better customer service experience.
A great way to make social media channels a net benefit to your brand perception and customer satisfaction scores is to offer a call-back when appropriate. Taking a sour conversation out of the public domain and into a one-on-one interaction with an agent can prevent a situation from becoming a black-eye for your company. It can even turn a casual conversation into a sale!
Why the Voice Channel Stands Apart
One might think that live conversations become de-emphasized as they get "crowded out" by the other options, but the data shows us otherwise. The Contact Center Satisfaction Index (CCSI) studied the change in channel preferences between 2012 and 2013. While email popularity dropped from 14% to 9%, the phone channel remained unchanged.
Another data point comes to us from Forrester's Kate Leggett (one of our "Top Contact Center Analysts to Watch") in her study on channel choices. She states, "Voice is still the most widely used channel, with a 73% utilization rate." That's an impressive number, but what's more important is the sentence that comes next: "This percentage has not changed in the last 3 years."
The best data I've seen on this front comes from a study done by American Express called the Consumer Service Barometer. It looked at channel preferences based on the nature of the inquiry. For "simple" inquiries (like "What's my balance?") online self-serve and email were the clear winners. But the balance shifts dramatically when the inquiry gets more complex and "Live Agent" becomes the dominant choice. See the image below.
If you're still unconvinced, check out our earlier posts Why Focusing on Voice is the Key to First Call Resolution and 3 Charts that Show the Voice Channel is Still King.
Why Voice is Keeping its Throne
We work with contact centers of all different types, here at Fonolo. What we see happening is that the rise of self-service options decreases the number of transactions that need a live conversation (as both the tools get better and consumers get more comfortable with them). But, there's always going to be cases where self-serve tools fall short. That makes the live agent channel get more "focused". The transactions that end up with a live agent are going to be more complicated and more likely to involve an upset customer. These are precisely the "make-or-break" moments for a brand.
Both the CCSI and the Leggett reports, mentioned above, point to the same conclusion: Contact centers have to "do voice right", i.e. allow customers to connect to agents in an efficient, pain-free way. (If your call center isn't doing that today, take a look at Fonolo, which fixes the common flaws with call center communications.)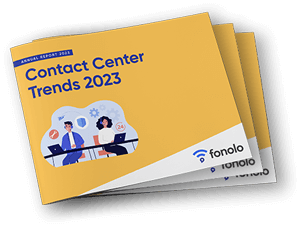 Trend Alert! Contact Center Industry Predictions for 2023
This report offers perspective on where the contact center industry stands today, plus our trend predictions for 2023.