With today's demanding consumers, it can be very difficult to maintain high customer satisfaction scores, especially with a tight budget. According to a CEI Survey, 86% of buyers will pay more for better customer experience, but only 1% of customers feel that vendors consistently meet their expectations.
Over the last few weeks, we've written about the major metrics (KPIs) that contact centers can use to obtain optimum performance (e.g. First Call Resolution (FCR), Abandon Rate and Service Level). This post will take a broader look across three areas: Customer Effort, Agent Attitude and Cross-Channel Efficiency. Improvements in these areas are the most impactful towards the overall experience for your customers.
Customer Effort
Many experts think that minimizing "customer effort" is the most direct path to higher customer satisfaction. In fact, there has been a sharp shift in the industry to favor "Customer Effort Score" (CES) over "Net Promoter Score" (NPS). Both of those metrics are determined by asking the caller a single question. In the case of CES it is, "How much effort did you personally have to put forth in order to handle your request?", and in the case of NPS it is, "How likely are you to recommend our company to a friend?"
The downside of CES (and NPS) is that they're subjective questions, so turning them into a quantitative value is never going to be a clean task. In order to track CES in your call center, you have to decide on how and when to ask the question and what kind of scale to give the customer (1 through 5? "very little" through "very much"?). The results have to also be divided into tasks. It wouldn't be fair to compare the scores for "checking my balance" with "changing my policy".
What's driving the interest in CES is the realization that no one process in the contact center really captures the full customer journey. There's no point in focussing on metrics like Average Handle Time when the phone call was only one part of a complicated multi-channel journey.
Cross-Channel Efficiency
We live in a multi-channel age. An efficient contact center operation means being efficient across all the channels. According to CCIQ, 88% of companies have adopted an omnichannel approach to keep up with increasing consumer demand. Allowing customers to engage through their preferred channel reduces customer effort and increases customer satisfaction. However, it puts additional strain on the contact center in terms of staff and technical resources. That's even more so when customers move from one channel to the next. A recent report from Ovum stated that 74% of customers use 3 channels or more for customer service issues.
Sadly, companies don't always take a cross-channel view when looking at the customer journey or assessing the Customer Effort Score. That same report from Ovum notes that 58% of companies don't measure their customers' cross-channel journey.
It's critical that each channel performs to its own strengths, but it's also important that they "play well together". According to a Forrester report, Customer Service Solutions for Enterprise Organizations, online retailers spent, on average, $22M each year on unnecessary channel escalations.
One might think that all the new channels make the "classic" voice channel less important. However, the data shows otherwise. Forrester's Kate Leggett states that "Voice is still the most widely used channel, with a 73% utilization rate."
The problem is that companies often don't make it easy to talk to an agent. In some cases, that's the result of a short-sighted agenda to contain costs (which negatively impacts loyalty, C-Sat and the customer experience). In other cases, it's the result of technical challenges in transferring a conversation from the web to voice (call-backs are a great way to solve that).
Agent Attitude
Agents are the front line of any contact center operation and so small changes in their training, attitude or behavior can have a big impact on customer satisfaction. Frost and Sullivan found that 60% of all repeat calls occur due to inadequate training or processes.
A common mistake made by companies is to manage agents by watching "surface-level" metrics such as Average Handle Time (AHT) and calls per day. This measures efficiency, but not effectiveness. Shifting the focus to different metrics can dramatically change agent behavior to yield higher customer satisfaction.
A great example of this came to our attention in a webinar we did last month with Jeannie Sugaoka, Senior VP of Support Services, at Tech CU (Technology Credit Union). (You can watch the webinar on-demand here.) Jeannie said, "We want our customers to feel cared for, and for every call to be 'one-and-done'… so we don't manage handle time." This is one of those policy decisions that has powerful ramifications. The decision not to watch handle time sends a strong signal to the agents about how they should approach calls and the kind of style they should use. It's no surprise that TechCU enjoys a very high customer satisfaction score (C-SAT).
One of the most comprehensive case studies on this topic was done by Harvard Business Review, "Stop Delighting the Customer", which covers a transformation at American Express:
In the past [agent] coaching tended to center around surface-level metrics, such as average handle time (AHT)… As well as…a long and unwieldy checklist of required frontline rep actions. The result was that reps spent more call time ticking off all the boxes on the checklist rather than listening to customers' needs. Their customers were frustrated by the resulting impersonal service … So they…eliminated the checklist so reps would have the flexibility to offer customers personalized, consultative service. … [by] replacing it with a competency-based coaching and monitoring program, called CORE. This program focuses on four broad competencies to which the reps are held accountable: Consultation, Offering solutions, Responding, and Engaging customers….  They [saw] improvements in both customer satisfaction and rep satisfaction levels….[and] seen double-digit improvement in year-over-year employee survey results.
Learn more
3 Ways to Maintain Customer Relationships in Their Preferred Channels
Using Employee Engagement to Enhance Your Customer-Centric Culture
Tech CU Selects Fonolo's Call-Back Solution to Improve Customer Experience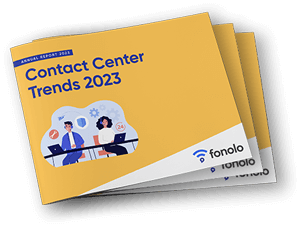 Trend Alert! Contact Center Industry Predictions for 2023
This report offers perspective on where the contact center industry stands today, plus our trend predictions for 2023.