If you're like me, you're probably tired of hearing overused marketing buzzwords, especially when used in the wrong context. The truth is, catch-phrases can become dated and negatively affect how your organization is perceived. After all, if "you are the weakest link", no one will "show you the money".
Here are 5 customer service buzzwords you should aim to avoid this year.
"Customer-Centric"
Arguably, there's nothing more important than having a corporate culture which puts customers first. Every successful company lives and breathes it. Unfortunately, saying "customer centric" is often a crutch, allowing managers to believe they are putting customers first, without actually doing so.
Now, more than ever, customers must come first. Don't just give it lip service: Weave it into the fabric of your corporate culture and never have to say it again.
"World-Class Service"
Since the 80's, it's something every company aspires to, not unlike being the "best in class". Yet there's no consensus on what it really means. Some feel that it's a well understood phrase, synonymous with "wowing" customers. Others think it has become generic, so overused that it has lost any real meaning.
With a global business environment of intense competition, every company seeks the means to set their business above the rest. Unfortunately, invoking a decade-old overused catchphrase is not the way to do it.
"Voice of the Customer"
VOC, as it's sometimes called, describes the in-depth process of capturing a customer's expectations, preferences and aversions. Essentially it's a research technique to produce a detailed set of customer wants and needs.
Unfortunately, through repeated misuse by marketing departments, it has become a catch-all phrase synonymous with collecting customer feedback. At the end of the day, to succeed, having a robust process in place to communicate with customers isn't just something you can pay lip service to.
"Customer Alignment"
They say that customer alignment is the degree to which a company is oriented toward serving its customers' interests. For example, a business that places customer service and customer needs at the center of its mission is said to have a strong customer alignment.
Not unlike being "customer centric", the risk of adopting a cure-all phrase is that companies truly believe they are doing all they can do to engage the customer. In reality, there's no shortcut for going the distance the old-fashioned way, building a corporate culture that focuses on customers at every level.
"Delight Your Customers"
The most cringe-worthy of phrases, marketing departments everywhere speak lovingly of their ability to delight the customer. Let me ask you: How many times have you truly been "delighted" by a company? (Hint: not many.)
The truth is, there's a big disconnect between what customers expect and what companies deliver. Customers won't be fooled by a buzzword or catchphrase. The companies that understand the expectations of their customers – well, they're the ones who get it, and will grow their customer base the right way. The rest, they may not be so delighted at the results.
As we say at Fonolo, "don't say it, live it".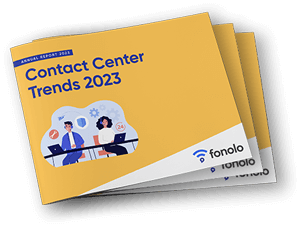 Trend Alert! Contact Center Industry Predictions for 2023
This report offers perspective on where the contact center industry stands today, plus our trend predictions for 2023.