If you manage a contact center, it's likely you keep a close eye on First Call Resolution (FCR). This is a metric that many consider critical to the operation of an efficient call center. A recent LinkedIn discussion asked the question, "What are the top 3 metrics you track" and FCR was mentioned in most of the answers. (See this recent blog post for a summary of that discussion.)
There are many ways to improve FCR from both a technology and policy perspective. Continue reading for some tips and resources that cover both categories.
Understanding FCR
Unlike many of the more technical metrics like Service Level, Occupancy or Abandon Rate, FCR is relatively straight forward to understand. You simply count all the calls where the customer's need was fully addressed during the call and divide that by the total number of calls. The key is that a second call (or another type of transaction) is not required to handle the issue.
The real complication in measuring FCR is determining whether an issue was in fact resolved. For some types of calls this can be unclear. One strategy commonly used today is to explicitly ask the caller, "Was your issue resolved today?" and then instruct the agent to make note of the answer. Another approach is through a post-call survey, administered by the IVR, email, or a visual interface.
The result of handling every issue with one call is very powerful:
More efficient use of agent time. (That's the most precious commodity in a call center.)
Higher caller satisfaction. (The need to call again is top complaint from consumers.)
Fewer inbound calls. (Freeing up resources like telco lines, IVR ports, etc.)
Now you can see why FCR is such a highly-watched metric: a good score implies both quality and efficiency in your contact center operations.
Learn more:
Achieving First Call Resolution 2014, a research report published by the Ascent Group.
Improving FCR with Technology
A recent industry report (linked below) studied data from 143 call centers to find the statistical correlation between various technologies and key performance indicators (KPIs). The chart below summarizes those results.
We were quite pleased to see that call-backs scored high on this list. We've seen first hand how replacing hold-time with a call-back leads to improved customer satisfaction, lower abandonment rate, lower handle-time and higher FCR. (You can read success stories or watch some videos here.)
Improving FCR with Policy
Technology is only part of the picture, however, the policies that govern a call center are just as important; both the explicit ones that are written in memos and reports and the implicit ones that emerge from the attitudes of management and staff.
We recently did a webinar with Jeannie Sugaoka, Senior VP of Support Services, at Tech CU (Technology Credit Union). (You can watch it on-demand here.) Jeannie oversees their contact center operation and said something very profound about FCR: "We want every call to be 'one-and-done'… so we don't manage to handle time."
This is one of those policy decisions that has powerful ramifications. The decision not to watch handle time sends a strong signal to the agents about how they should approach calls and the kind of style they should use. It's no surprise that TechCU enjoys a very high customer satisfaction score (C-SAT). (You can read about how Fonolo helped TechCU lower their abandon rates here.)
Learn more
If you enjoyed this, you may also enjoy our other metrics related posts:
Is Your Call Center Tracking Abandonment Rates?
Finding the Right Service Level for Your Call Center
4 Call Center Benchmarks You Should Pay Attention To
We recently held a round-table discussion (via Google Hangout) that brought together experienced call center managers to discuss which metrics they watch and why. If you missed the live event, you can watch highlights here: Top 4 Takeaways: The Future of Call Center Metrics.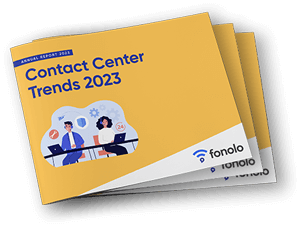 Trend Alert! Contact Center Industry Predictions for 2023
This report offers perspective on where the contact center industry stands today, plus our trend predictions for 2023.