Looking for the latest contact center trends?
Read the 2021 contact center trends report.
I'm really excited about the round-table discussion we have coming up on Thursday. We've gathered several industry experts to discuss four important call center trends for 2015. Because we broadcast it as a live Google Hangout, you can join the conversation from the comfort of your desk or sofa.
To prepare for the discussion, I went through my notes and researched the topics, as I always do. But for this hang-out, I'm going to do something different: Share those notes ahead of time. I'm hoping it will trigger some thoughts among the audience, and we'll see deeper questions asked of the panel on Thursday.
Below you'll find some background on the four trends: gamification of the call center, omnichannel integration, customer service through mobile apps, and workforce optimization.
Omni-Channel Integration
For many years, the contact center industry has been using the term "multi-channel" to describe the transition from communicating by phone only through email, chat, and social media. That's how the "call center" became the "contact center." In parallel, retailers have been using the term "omnichannel" when discussing how the in-store experience relates to the experience on the phone and through web and social channels.  Those two terms are now colliding, as it is getting harder to draw a clear line between them.
Most physical retail chains have an e-commerce option, and many consumers are using their smartphones while in-store. At the same time, employees in the store are often using the company's website to field customer questions. The online experience is also the employee's experience and hence – indirectly – part of the in-store experience. It's all mixing! In my mind, this is absolutely the central challenge in customer service for the next decade.
Some stats to keep in mind:
88% of companies have adopted multi-channel to keep up with increasing consumer demand. (CCIQ)
58% of companies don't measure their customers' cross-channel journey. (Ovum)
74% of customers use 3 channels or more for customer service issues. (Ovum)
By 2015, 80% of implementations will fail because companies will retain channel-centric strategies. (Gartner)
Workforce Optimization
For contact center managers, it's imperative to optimize staffing levels to match trends in call volume. Workforce optimization solutions target this issue directly. They also attempt to make better use of agent idle time. Solutions in the WFM/WFO space are offered by all the major call center vendors: Avaya, NICE, Aspect, Genesys, Cisco, InContact.
A survey by Knowlagent found that agents have an average of 49 minutes of idle time daily and that the majority of idle time occurs in less than 3-minute increments. Proponents of WFO claim that even these small bits of time can be used to improve agent performance.
Gamification
Gamification can really be classified as a part of workforce optimization. It focuses on keeping call center agents motivated, which can be a real challenge. Gamification guides and reinforces high-value activity by capturing employee performance data and, in turn, using that data to motivate them with rewards and points. According to Gartner, by the end of 2015, more than 40% of the top companies will be using gamification to transform their business operations.
The popularity of gamification is such that there are now many vendors to choose from. One of them, PlayVox, released this useful checklist: "8 Things you need to know before you gamify your call center". Another good list is provided by competing vendor Work.com here: "Gamifying call centers."
Mobile Customer Service
When I watched Apple's last keynote, CEO Tim Cook had an important customer service message, even though it was about an entirely different issue. In introducing their Continuity product, he said, "You should be able to use the right device for the moment – phone, tablet, or desktop." Today, mobile devices have become the top choice for consumers when communicating with companies. So companies that want to have an enjoyable interaction with their customers need to build around that choice.
A staggering 91% of smartphone users keep their devices within arm's reach 24/7, so it's no surprise that this device has become the first choice for customer communication. In fact, 72% of consumers said they would replace traditional channels with mobile apps if the same customer service features were available.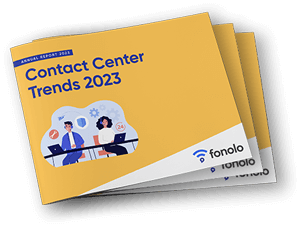 Trend Alert! Contact Center Industry Predictions for 2023
This report offers perspective on where the contact center industry stands today, plus our trend predictions for 2023.