Let's start with some basic definitions: "SIP" (Session Initiated Protocol) is a signaling protocol designed for initiating interactive user sessions over a data connection. A "trunk" is a circuit between switching systems that can carry a specific number of calls at a time. Your call center has a trunk today which carries the phone calls, and it is either a traditional "TDM Trunk" or a "SIP Trunk". More and more call centers are switching over to the latter for cost savings, increased flexibility, and advanced features.
What makes SIP trunking exciting is that you can have a single "pipe" from the call center to your carrier (and the worldwide phone system) that carries all your business traffic: Voice, video, and data.
Internet pioneer Vinton Cerf said:
It is my honest opinion that we have barely scratched the surface of the various applications to which SIP may be adapted. If we have seen 1% of the applications of SIP so far, then there are still 99% waiting to be invented, developed or deployed. The generality of SIP will make it a major workhorse of the Internet this century.
Read on to learn more about what SIP can do for your call center.
SIP Still Driving Contact Center Industry Change
The SIP signaling protocol has had a tremendous impact across the telecom industry and continues to drive change. While 30% of worldwide network traffic today moves with the use of SIP, in 2019 Eastern Management Group analysts expect 76% of outbound call traffic will be SIP.
A Forrester survey of IT decision-makers shows that 55% of companies either have or are planning to replace PRIs with SIP trunks.
SIP Trunks Cost Less
One of the drivers of adoption is cost reduction. SIP trunks can reduce the monthly recurring cost of separate PSTN & data circuits. Hardware requirements go down since hundreds of VoIP calls can come from the same hardware footprint as a single T1 interface (T1 is a standard unit of TDM trunking). Furthermore, service providers offer reduced toll charges to customers when SIP is used as the interface to the PSTN.
This webinar by call center vendor Genesys, covers a case study with Ticketmaster who achieved 60% decrease in annual maintenance costs and ROI in 18 months by moving to SIP.
But cost savings is not the main driver. In fact, just 35% of organizations today implement SIP principally to cut costs.
Flexibility and Fail-Over Capacity
Because voice and data are going over the same pipe, the call center gets new flexibility in allocating resources. For example, if you have multiple call center sites and lose connectivity to one of them, you want to route all calls to the other. With SIP, this kind of rerouting can be done easily (and even automatically). You can read more about the flexibility of SIP trunking in the "Rethinking the Call Center" series by analyst Jon Arnold.
SIP Lets You Add New Functionality
One of the best reasons to migrate to SIP trunking is the ability to quickly add new functionality to your call center such as call recording, call analytics and call-backs. Because SIP treats voice and data through standard protocols, third parties can interact with your call flow without writing proprietary "adaptors" for each call center platform. In this way, call centers are no longer trapped with the options native to IVR/ACD vendor and can choose the best product for their needs.
In fact, SIP trunking is one of the reasons behind Fonolo's market success. Call center managers love our call-back solutions because they can be deployed rapidly and at a low cost (a "Professional Services" engagement is not needed). While we can connect over the PSTN as well, a SIP-based deployment provides the least amount of effort and a lower cost.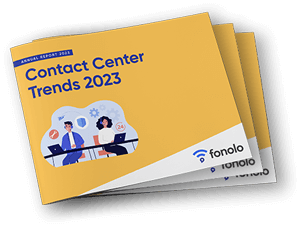 Trend Alert! Contact Center Industry Predictions for 2023
This report offers perspective on where the contact center industry stands today, plus our trend predictions for 2023.