Adapting to changes in the call center industry has become an annual requirement (this is especially true for organizations that stay in tune with the latest trends). Call centers experience continual transformation, from new technology to evolving consumer behavior. Now that we've entered the final month of 2014, I thought it would be fitting to share the top infographics that best illustrated the year we had.
So here goes …
This infographic discuss the challenges and opportunities for the future of the call center. Mobile phones and a human touch were most illuminating (even though they are somewhat contradicting). The infographic discusses the rise of smartphone owners (80% of adults, up from 35% in 2012), which illustrates the importance of mobile-friendly websites and applications. However, it also discuss that 71% of consumers still need a human touch, which illustrates the continued importance of the voice channel.
2) Top Call Center Priorities in 2014
It's interesting to see what call center executives deemed as a priority for this year. The majority (78%) said their primary objective was focusing on customer satisfaction. This is a pretty broad goal, especially since we are in a multi-channel environment and satisfaction can vary. It's interesting to note that 66% of call centers also had a focus on delivering a consistent customer experience – another area where multi-channel makes things complicated.
Data is big and will only continue to grow. This infographic is a great representation on how you can use big data to your benefit. For example, 93% of call centers use customer feedback data to personalize agent training and coaching, and 76% use it to enhance agent classroom training. I couldn't think of a more useful way to use this data. Your customers will thank you and your CSAT levels are bound to improve.
Although industry leaders are uncertain about gamification taking off next year, it still has a lot of hype and contact centers are talking. If agents are unhappy, disengaged or your call center experiences high churn, gamification could very well be the solution. It creates friendly competition, peer recognition, and increased job satisfaction. One organization experienced a 15% decrease in handle time and a 9% improvement in service levels after adding gamification to their call center.

This infographic is appealing because of the stat it illustrates right at the very top. 90% of customers are frustrated by being put on hold for a long time. It's no surprise that this is still the number one issue, which completely deteriorates customer satisfaction. So if you're a part of the 78% of call centers who want to improve CSAT levels, here's a solution you can't ignore: Instead of keeping customers on hold, offer them a call-back instead! The whitepaper below discuss this in more detail.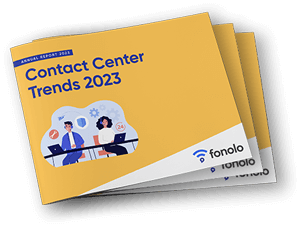 Trend Alert! Contact Center Industry Predictions for 2023
This report offers perspective on where the contact center industry stands today, plus our trend predictions for 2023.