Unhappy customers are a fact of life for all businesses: it's impossible to please everyone, all of the time. The key to customer service success isn't in doing the impossible; it's in the way reps handle customer complaints. This makes customer service training absolutely key to the success of an organisation. Make sure your reps have what it takes by emphasizing these points.
Let the customer be angry
The most effective way to start calming an unhappy customer is just to let them vent: don't be tempted to judge whether or not their complaint is valid—just start with the assumption that the customer's complaint is justified.
Don't take their anger personally
At the same time, it's important that reps are able to distance themselves from a customer's anger—to listen and acknowledge anger without getting flustered or frustrated. Instead of getting caught up in the customer's emotions, a rep should be listening carefully to what they're saying and how they're saying it, to identify cues that will help them placate the customer, as well as solve their problem. When customers express strong emotions it's usually for a good reason, but that reason is related to the agent themselves.
Listen and repeat
A psychological technique called mirroring is employed by psychotherapists as a way of validating a patient's concerns without judgement. In customer service terms, this means listening to a customer's complaint, and repeating to them the main points they've made—along with an acknowledgement of their emotional distress. That allows the customer to feel validated, takes some of the sting out of their anger, and reassures them that the rep understands their problem.
Own the problem
It's tempting for a rep faced with a highly irate customer to distance themselves from the problem, so customer service courses should reinforce the importance of owning a problem, no matter whose fault it actually is. The rep needs to apologize and own the problem—not necessarily on a personal level, but on an organisational level—and state their willingness to fix it.
Put the customer first
Throughout the entire process, the focus should not be on the customer's problem, but on the customer themselves. This may seem counter-intuitive—after all, it's a customer service rep's job to solve problems—but it really does make perfect sense, because the job isn't just about solving problems. The most important thing isn't to solve the problem, it's to turn an unhappy customer who may take their business elsewhere into a satisfied customer who's willing to remain loyal. Therefore, it's more productive to think of problem resolution as a means of doing that.
Solve the problem or provide an alternative
Ideally, a rep should be able to solve the customer's problem, and reassure them that it won't happen again in the future, but depending on the nature of a customer's problem, it's not always possible to make such a guarantee. At the least, a service rep should be able to reassure the customer that it's unlikely.
Follow up
One of the biggest complaints customers have about the service they receive is that it's impersonal and that organisations don't genuinely care about their customers. Correcting a problem and then sending a follow-up inquiry a month or so later is a good way of demonstrating a level of attentiveness that helps boost customer loyalty.
---
Guest Blogger: Alison Brattle
Alison is a Marketing Manager at AchieveGlobal, a global customer service and sales training firm based in the UK. It specializes in providing customer service courses and helps organisations develop business strategies to achieve sales success. Alison enjoys sharing her insight and thoughts to provide better sales and leadership training. Feel free to connect with her on LinkedIn.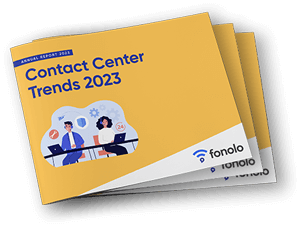 Trend Alert! Contact Center Industry Predictions for 2023
This report offers perspective on where the contact center industry stands today, plus our trend predictions for 2023.