It's been said that you never get a second chance to make a first impression, something that's eternally true in the call center. The challenge is how to give every caller the attention they deserve, while avoiding the obvious pitfalls that turn them off.
Here are 5 rookie mistakes you might be making on support calls, and what you can do about them:
1. Too much talking, not enough listening
This is nothing new- heck, it's probably the same advice you got from your mom before your first date.
It's your job to make customers feel that their voice is being heard, and it's hard to do that when your jaw is flapping. Not only will customers appreciate your patience, you'll appreciate having a better understanding of the problem. Best of all, callers are more open to resolving their issues once they've had a chance to vent.
2. Getting stuck on the script
Scripts work for training purposes, but to most callers they're an annoyance. Be genuine- customers know when they're being treated like sheep – and they don't appreciate it.
By contrast, when you ask callers deeper, more relevant questions, you're more likely to establish trust. They, in turn, are more likely to follow your guidance, leading to a successful call resolution.
3. Making them wait
Customers can only hear "… your call is important to us …" so many times before they just hang up the phone. The ones that stay on (after a prolonged wait) are more liable to complain about their experience and be difficult to service.
If you don't have the staffing levels to ensure reasonable wait times or you experience periodic spikes in call volume, consider adding call-backs. A cloud-based solution like Fonolo can easily be added to your call center, so you can eliminate hold time and show callers that their call truly does matter.
4. Passing the buck
Handling irate callers is difficult, but it hurts everyone to simply pass the buck in an attempt to get them off the phone quickly. Most issues won't be your fault, but taking responsibility and helping to find a solution will go a long way to establishing trust. By contrast, blaming someone else for mistakes (be it another department for screwing up or the dog for eating your homework) is a sure-fire way to alienate your customers.
5. Forcing customers to switch channels … and start over
It's 2015, and customers have come to expect the same level of service whether they contact you via phone, email or Twitter. (If you can't truly support customers on a channel, perhaps you shouldn't be there in the first place.)
Of course it's not possible to fully resolve every issue on every channel. However, forcing customers to end the conversation, pick up the phone, and start over because you don't have the authority to resolve their particular issue makes for a terrible experience.
When it is necessary to escalate a conversation from one channel to another (for example, from chat to voice), ensure that you can preserve the context of the conversation. Many companies, offer a way to seamlessly transition customers from web/mobile/chat to voice, without requiring them to start over with an agent.
While it's not always true that "the customer is right", the customer is always the customer. Alienate them, or provide a poor support experience, and they won't be.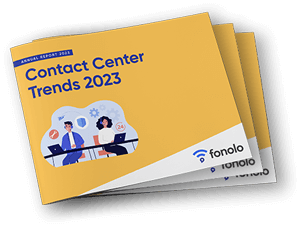 Trend Alert! Contact Center Industry Predictions for 2023
This report offers perspective on where the contact center industry stands today, plus our trend predictions for 2023.