Over the past year, there has been growing attention paid to the role SMS might play as part of the contact center mix. One reason for this is there are now several cloud services that provide easy platforms on which to develop SMS-driven interactions, e.g. Twilio, Tropo and Plivo. Another reason is a change in attitudes on the part of the carriers, who are now willing to allow inbound SMS to any toll-free number. (In the past, carriers strongly preferred that "commercial" use of SMS went through "short-codes", which required large monthly fees.) In response to this, a number of companies have emerged, or pivoted, to take advantage of the SMS-for-customer-service opportunity, e.g. TextGen, OneReach and MMS.
All of this answers the "how", the bigger question is "why". Yes now it's easier to build SMS into the customer service workflow, but what advantages does it give us? Don't we have a big enough challenge juggling all the channels we already have?
SMS: A Companion Channel
What the contact center has needed for many years is a channel of communication that could serve as a "companion" to the phone channel. By filling in the gaps of the phone channel, many of the long-standing flaws of the call center experience can be fixed.
1) A Better Queuing System
The standard way of queuing calls in the call center – making the caller wait on hold – is really a poor solution. The idea of hundreds of people keeping the phone to their ear, holding a telco line open, waiting an unknown amount of time to talk to an agent… that's the worst possible way to handle the situation. When call centers were first invented, technological limitations meant this was the only feasible approach and we've been stuck with it ever since.
What we really need to handle queuing properly is a simple way to send short messages between the two parties.
To the call center: "I'd like to talk to an agent".
To the caller: "OK, you're in line."
And then, some time later: "OK, it's now your turn to talk to an agent."
SMS suits this role perfectly!
2.) Better Navigation and Data entry
Another big frustration with the call center experience is the dreaded phone menu … "Please listen carefully to the following 7 options… press 1 for…" Again, a simple messaging system could solve a lot of pain. It's easy to read 7 options than to listen to them. The same goes for entering in data such as record numbers, phone numbers, and especially alphanumeric information like mailing addresses.
Why SMS?
There are lots of options for text-based chat today. SMS stands out because it is:
Widely available and widely used by consumers (a result of the astonishingly rapid transition to smart phone);
Simple to use (a result of the no-frills protocol that was designed in the very early days of mobile phones);
Highly reliable (a result of telecom legacy of vertical integration and engineering-first mantra);
SMS has another unique feature in that it is inherently connected to the voice channel via the phone number. That means we don't need an extra step to associate the two. SMS is already the "companion" channel to your phone.
What About WebRTC?
Many people look at WebRTC as the technology that will solve call center problems. The hope is that, by "freeing" communication technology from the constraints of the highly regulated, quasi-monopolistic, risk-averse telecom industry, the creative energy of the world's developers can produce many new options. Then, rapid market feedback will filter out the best solutions. It's tempting to think this way since we see it work so well in the domains of web technology, mobile apps, and more.
Someday, perhaps, but at the moment, WebRTC is still a fragmented world with competing codecs and uneven implementations. There's also uncertainty emanating from some very important camps, such as Apple. (I suspect Apple would rather not take focus away from its proprietary, and very successful, FaceTime system.) That means WebRTC is lacking ubiquity which, for the call center world, is a fatal flaw. (See my earlier post WebRTC and the Call Center: Challenges Ahead for a deeper explanation of that.)
The World is Ready
I think the consumer world is ready for broad adoption of this new approach to call center communication: Voice + SMS. That's why, at Fonolo, we've been doing significant R&D in this direction. (See our announcement last year regarding the Twilio partnership.)
Why now? First off, I can reference various stats regarding usage and adoption. But, just as important is the change I see around me in our everyday protocols for both business and personal calls. For example, we now commonly pre-arrange our calls with "side-channel" chats so as to avoid inconveniencing the other party. That's why "Talk now?" is one of the most popular messages sent. If we can take a behavior that already feels natural to consumers and adapt it for call center interactions, we will see a major step forward in an industry that is long overdue for one.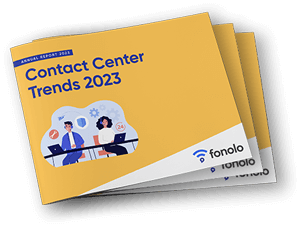 Trend Alert! Contact Center Industry Predictions for 2023
This report offers perspective on where the contact center industry stands today, plus our trend predictions for 2023.