Excellence in customer service can never be stressed enough. A company with outstanding service can increase customer retention by as much as 80%, and boost profit by 60% .
Customer service, however, is not an exact science. Rather, it's a combination of quick thinking, hard facts and data, and, most of all, empathy that seeks to understand and care for customers.
These five stories provide you with the best examples of how to provide your customers with an amazing customer service experience, even if you're faced with numerous hurdles.
1) Going the Extra Mile: The Morton's Steakhouse Story
As the sage advice goes,
Do good and profit will follow.
Some businesses, however, struggle to go beyond what is required of them for one simple reason: cost.
Morton's Steakhouse forgot about the cost of going above and beyond – and got more than what they expected in return.
Peter Shankman was about to board a flight that would take about 3 hours. After a long day, he felt he'd definitely go hungry if he waited to make eating arrangements until he arrived at his destination. In a jest, he tweeted Morton's Steakhouse for some steak to be delivered upon his arrival.
True enough, when he arrived, a tuxedoed man delivered what he had ordered: a juicy 24-ounce steak with silverware, napkins, and side dishes.
What's more interesting, though, is the fact the nearest Morton's Steakhouse was more than 20 miles away from the airport, and one could only imagine how the upper management must have been persuaded to agree to such a simple, isolated Twitter request.
Yet everything about this one simple customer service transaction was worth it for Morton's. Not only did they make a customer happy, but when the word got out, they also increased their sales by 17% in just 7 days.
2) How to Not Disappoint Potential Customers: Hurray, Taco Bell
Any story that involves your business, whether it's true or not, can affect you. Taco Bell certainly understands this concept, so when they heard that thousands of residents in Bethel, Alaska, were made to believe they were going to be opening a store there, they did one unconventional thing, creating Operation Alaska and flying 10,000 Doritos Locos Tacos to eagerly awaiting customers.
This simple act, however, rewarded the brand immensely when it received more than 14 million impressions in social media, increasing their sales by 6%! They subsequently sold more than 70 million of the same tacos.
3) The Customer Is Always Right: Sainsbury's and Ms. Lily Robinson
While it's so easy to say that customers are always right, accepting it as a precept for operating your business is quite often difficult as it may mean giving more control than you like to. As the owner or the manager, you should continue to be in the thick of things when dealing with customer complaints and suggestions. When you're having a hard time remembering this critical role of your customers in improving your bottom line, you may take a hint from Sainsbury.
Three and a half-year-old Lily Robinson sent a letter to the company asking why one of their breads was called a Tiger bread, when it looked more like a giraffe's skin pattern. Cute, funny, innocent, but not the kind of letter a company as large as Sainsbury would pay attention to, right?
Wrong. They sent a reply agreeing with her observations, along with a gift card. But they went overboard too. They changed the name of the bread per her recommendations, and even honored little Lily's contribution by acknowledging the reason for the change of name.
Although the change took a while for Sainsbury to fully implement, their kind and fun response to Lily's letter generated more than 130,000 likes on Facebook.
4) A Tale of Customer Retention: Trader Joe's and the Winter Storm
No doubt, businesses should strive to introduce themselves to new markets and target more customers. Customer retention, however, should not be put on the sideline since it's 6 to 7 times cheaper to maintain current customers rather than trying to acquire new ones.
This might be the reason why Trader Joe's went out of their way and braved the winter storm to deliver $50 worth of meals for FREE to an 89-year-old grandfather who couldn't get out to buy his own food during the severe storm conditions.
They also took the opportunity to stress how knowledgeable they were of their customer's needs by recommending the best types of foods for the older gentleman's low-sodium diet. The story eventually made rounds in Reddit, which has millions of members.
5) Keeping Cooler Heads: Frontier Airlines Buys Pizza for Everyone Onboard
Remember the point that was made about customer retention? Perhaps one of its greatest challenges is how to constantly please your customers, especially if they're not happy to begin with.
But maybe a certain Frontier Airlines pilot could teach you a thing or two. When the plane had to remain on the tarmac for two hours because of a storm, the captain made sure everyone didn't become restless, bored, and hungry by ordering 50 boxes of Domino pizzas! The yummy pizzas certainly made the delay a little more cheery and easier for the confined passengers to bear, and of course, boosted the airline's reputation.
When you want offer great customer service, but may be confused as to whether to spend more money to resolve the situation or go the extra mile by providing an extra level of service, always remember this: kindness is always repaid with kindness, usually many times over. Satisfied customers will spread positive word-of-mouth and your customer service efforts will outshine your competitors.
So tell us, what's your story? 
---
Guest Blogger: Michael Abella
Michael is an Outreach Specialist for FluidReview, a cloud-based application and review platform with a strong focus on creating a positive user experience for both applicants and reviewers.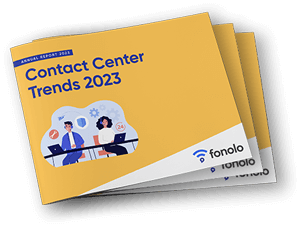 Trend Alert! Contact Center Industry Predictions for 2023
This report offers perspective on where the contact center industry stands today, plus our trend predictions for 2023.