Fonolo is proud to be a part of Frost & Sullivan's 11th Annual Customer Contact 2015, East event, taking place April 12 – 15 at the Sawgrass Marriott Golf Resort & Spa, in Ponte Vedra Beach, FL.
Customer Contact 2015, East isn't a trade show in the traditional sense. Rather, it's a small event with a focus on networking, strategic conversations, insights and best practices for driving customer strategy. Frost & Sullivan refers to it as an "Executive MindXchange".
Attendees will have the opportunity to participate in a multitude of thought-provoking sessions and discussions covering all aspects of the customer service and customer care industries, something we're very passionate about.
Offering an excellent customer experience is critical for companies, to attract and retain customers. Those who aren't happy dealing with a company will quickly jump to a competitor – one who offers them better service. We're looking forward to learning and sharing our experiences and best practices for providing the best possible contact center experience.
In fact, on Tuesday April 14th at 3:55 PM you can catch Shai Berger, CEO at Fonolo, and Mark Edelman, Vice President Digital Member Services at Stanford Federal Credit Union, discussing "Best Practices for Building a Seamless Multi-Channel Customer Experience".
We can offer you a discount if you're planning on attending. If you're already registered, we hope to see you there!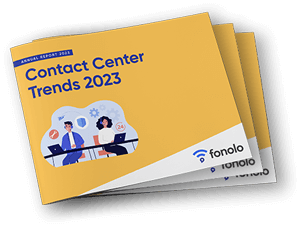 Trend Alert! Contact Center Industry Predictions for 2023
This report offers perspective on where the contact center industry stands today, plus our trend predictions for 2023.