This year's Enterprise Connect conference was a whirlwind of sessions, demos and announcements. There was also an abundance of big reveals from major vendors including Cisco (re-launching its UC endeavor as "Spark"), Interactive Intelligence (announcing PureCloud Collaborate), Microsoft (unveiling Skype for Business) and Avaya (announcing a new call center partnership with Google).
I wrote up my top takeaways on trends related to call centers a couple weeks ago, you can read that here. Many industry analysts did the same and, now that the dust has settled, I've assembled the top posts here for easy reference.
Irwin Lazar
Irwin was co-chair of the WebRTC Conference-in-a-Conference so he had plenty to say about that topic:
WebRTC is quickly moving from being a technology that people investigate to being a technology that is part of a solution that people buy. I think you'll see less and less discussion of 'is WebRTC ready?' and more discussion of the solutions that people are deploying that leverage WebRTC benefits.
On the challenges of cloud migration:
"…as enterprise IT shifts to the cloud, it is facing challenges related to security, governance, data management, geographic expansion, and perhaps most importantly, cost… the cloud landscape continues to confuse as IT leaders assess a wide variety of deployment options including SaaS, private-hosted, managed, multitenant, single-tenant, and more."
Read more: Reflecting on Enterprise Connect 2015
Zeus Kerravala
Zeus says the show was dominated by 6 main themes.
Read more: Final Thoughts on Enterprise Connect
On CPaaS (Communication Platform as a Service):
"CPaaS has come to life, and this will have a profound impact on the current UC market… In addition to Twilio, Genband had its Kandy-based applications …and Avaya … showed off the Avaya Engagement Developer Platform."
Dave Michels
Dave feels that one of the most important trends is the emergence of "any-time communications" which he defines as the blending of "asynchronous communications such as email, social updates, and messaging with real-time communications such as voice and video".
The any-time communications category is rapidly evolving … Active Directory integration, globalization, mobile-first designs, cloud-speed development cycles, and elastic scalability… I believe any-time communications solutions are game changers with significant ramifications for the future of enterprise communications.
Read more: Any-Time Communications Emerges at EC 2015
Sheila McGee-Smith
Sheila chaired the call center track, and moderated several of the sessions. In her recap, she zeroes in on one simple word:
If I were to pick one word to summarize my takeaway from five Enterprise Connect 2015 contact center/customer experience track sessions, several keynote presentations, numerous one-on-one meetings, and a whirlwind tour of the show floor, it would be 'context'.
After showing how this concept threads its way through the announcements by Cicso, CafeX, Humanify, InIn, Altocloud and others, she draws the parallel to consumer behavior:
Consumers have been trained by [mobile apps] to interact on a peer-to-peer level, and they want to have similar types of interactions with businesses. The problem that needs solving is how, as a corporation, to create that kind of peer-to-peer relationship with a consumer. And providing the context of the relationship the consumer has with the business, as well as that customer's earlier-related interactions, is the new Holy Grail for contact center agents.
Read more: Context: The New Holy Grail
Blair Pleasant
Blair moderated two panels on cloud case studies and she concludes:
It's not about opex vs. capex or whether premises-based or cloud solutions have the better TCO – it's about how the cloud enables businesses to more quickly and easily deploy communication solutions, making them more agile and competitive.
Like Dave Michels and Sheila McGee-Smith, she also sees context as a huge trend:
Understanding previous interactions and conversations helps to reduce time-wasting activities, whether in a contact center interaction or a team collaboration session. … new solutions from AltoCloud and Cisco (Cisco Context Service) are on the leading edge of context-enabled customer interactions, but we're also seeing solutions from Corvisa, Five 9, Avaya, CafeX, and others help to put each interaction in context and enabling the omnichannel experience.
Read more: Key Themes from Enterprise Connect
Dan Miller
Dan also focusses in on the "context" issue. In his piece he looks closely at what Cisco announced ("Cisco Context Service for the Contact Center") as an indicator of what's to come:
Ciscos' announcement …. puts Context Services in the cloud and provides customer service agents with access to information about a customer's previous interactions…
He then highlights the partnership between Cisco and start-up AltoCloud (which was in this year's Innovation Showcase) as an example of what can be done with this capability:
Altocloud can… inform agents of IVR systems of the proper way to respond to a customer query or set of instructions based on its analytical assessment of where that individual is along its 'customer journey.' That makes Altocloud the first among what is likely to be many partners who take advantage of Cisco's API-based approach to receiving data into the Context Service cloud…. More times than not, context will come from multiple sources and a growing amount of that information resides outside enterprise firewalls. Cisco…[can]… support secure communications over multiple clouds and that will serve it well in real-time, customer-controlled, multi-vendor, multi-enterprise world of intelligent assistance.
Read more: Cisco Debuts Context Service at Enterprise Connect
---
Virtual queuing is a powerful technology that can benefit your contact center in many ways. Find out why an increasing number of companies are using this technology.

What's Inside:
Increasing Customer Satisfaction
Reducing Abandon Rate
Improving First Call Resolution (FCR)
And 2 more important reasons!
DOWNLOAD THE FREE 8 PAGE REPORT TODAY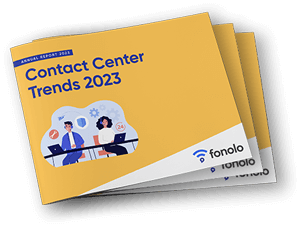 Trend Alert! Contact Center Industry Predictions for 2023
This report offers perspective on where the contact center industry stands today, plus our trend predictions for 2023.