Last week, the Fonolo team attended Frost and Sullivan's Customer Contact conference and I had the pleasure of giving a presentation on multi-channel customer service. This is a hot topic for the contact center profession – so much so that we had double the expected attendees and had to move to a larger room!
But we shouldn't have been surprised. I believe figuring out how to provide customer service effectively across multiple channels is the central challenge faced by our industry today.
The organizers asked me to come up with "best practices" for delivering an effective multi-channel experience. The problem with that is it's a moving target. The channels your customers want today are different from what they were two years ago, and will be different again two years from now. To thrive in this new reality requires embracing this ongoing change. And that's something that is fundamentally different today than the call center of 10 years ago.

New channels arriving daily
The contact center has gone through the process of adding new channels before. After all, that's how it "graduated" from being just a "call center". But in the past, this happened very rarely… fax in the 80s, email in the 90, etc. What's really different today is the pace.
To get a sense of this, let's look at SMS, a channel that is growing rapidly. A recent study by Harris showed that 64% of consumers would rather text a company than call in. Wow! That's a big demand for a channel that wasn't even on the radar for most consumers 5 years ago.
Just as you're wrapping your head around that, consider this: Last month, more messages were sent on WhatsApp than SMS (according to The Economist). So how long before that's a channel we need to consider?

Is it weird to think of a proprietary messaging platform as a channel for B2C customer service? It's not according to 170 million people in China who are regular users of Weibo. It has already become a significant way people contact companies, purchase products and even book flights.
With that in mind, take a look at what Facebook announced last month. They turned their Messenger chat app into an open platform along with a Business on Messenger service. By providing ordering, payment and shipping functions within the chat platform, Facebook wants Messenger to be the new front-end for B2C communications. In other words, your Facebook page is your new toll-free number.
Through partnership with Zendesk, several companies have already jumped on board. The images below (taken from here) give us a glimpse of this future.

These few anecdotes hopefully drive home the point: The channel mix for customer service is, and will continue to be, very dynamic. This is the new normal.
To add some perspective, look at the chart below, from Dimension Data's highly regarded Global Contact Centre Benchmarking Report. It shows the dramatic change in channel usage over the course of several years, based on a survey of 900 call center managers.

Embracing this new pace
So back to the session at the Frost conference… I was presenting along with Mark Edelman, VP of Member Contact at Stanford Credit Union. (You might remember him from such films as Multi-Channel Call-Backs Increase Revenue and When to Offer Call-Backs.)
Together we set the stage for the audience using information like that above, combined with Mark's own first-hand experience with call centers. Then we led a lively discussion about how organizations can adapt themselves to this new reality.
Below are the 5 "take-aways" we wrote down, with some commentary on each.
1) Look to the customer service leaders.
Keep an eye on companies like Zappos that are trail blazers in customer service because they are defining the expectations that your callers will have.
2) Make assessment of new channels a regular practice.
The adoption of a new channel is not a once-in-a-while thing, like it was when email emerged.
3) Be where your customers are
To avoid panicking about all the channels on the horizon, watch what channels your customers are currently using – with you and other companies they deal with.
4) Focus on and smooth-out key transitions
It's not enough to provide good service in each channel, you also have to provide for smooth transitions between channels. Customers hate it when you make them "start over".
5) Happy customers and happy agents are a balanced equation.
When you provide a good experience, on whatever channel it is, you get happier callers and that, in turn, leads to happier agents.

Boiling it down:
To thrive in this new reality, companies need to build a habit of watching their customers, competitors and leading companies for new communication channels, assessing the fit with their business, and constantly experimenting to see what works.
The upside to all this is that there has never been a more interesting time to be in this industry. We are experiencing an epic transformation in how companies interact with their customers. Be grateful for your front-row seat!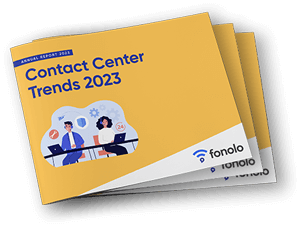 Trend Alert! Contact Center Industry Predictions for 2023
This report offers perspective on where the contact center industry stands today, plus our trend predictions for 2023.