There are few work environments as stressful as the call center. Among the daily requirements for managers … dealing with angry customers, strict work schedules, and satisfying management whose expectations constantly increase while operating budgets are cut.
So, for those who have "seen it all", here are 3 videos every call center manager should watch.
1. Seinfeld's "The Reservation"
A classic case of overpromising and underdelivering, illustrated in a way that everyone in a call center can relate to.
2. Tony Hsieh on Customer Service
On a more serious note, here's Tony Hsieh, CEO of Zappos, talking about where the passion for customer service comes from:
Here's a great quote from the video:
75% of our orders are from repeat customers. So our philosophy is take the money that would have gone to marketing and keep those people happy and coming back … We get 5000 calls a day … the telephone is one of the best branding devices out there … if you get that interaction right … they'll tell their friends and family.
3. Telus "Scream" Commercial
This one hits home for anyone wondering how customers feel about waiting on hold. There are few things callers hate more!  (Which is why we encourage every company to look at using a call-back solution, like Fonolo, when they experience periods of extended hold times.)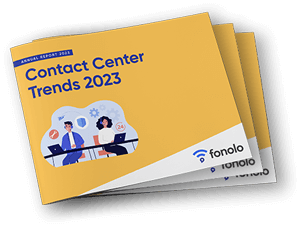 Trend Alert! Contact Center Industry Predictions for 2023
This report offers perspective on where the contact center industry stands today, plus our trend predictions for 2023.