One of the amazing things about Twitter is the unexpected, and unplanned, behaviors that have developed around it. Hashtags, for example, were a spontaneous user-led idea that have become a cultural and linguistic phenomenon. As another example, I doubt anyone expected Twitter — launched as a "micro-blogging" system — to become a major platform for customer service. Yet here we are: 43% of the Interbrand 100 companies have dedicated twitter handles for customer service (according to Simply Measured).
With its ongoing struggle to impress investors with new revenue sources, I started thinking: Could Twitter find a way to monetize its growing role as a channel for customer service? Here's one way they could do it.
Customer Service on Twitter
A communication system where all interactions are public by default would seem like a bad choice for customer service. Turns out, that public nature was actually the key to the phenomenon.
Consumers quickly realized that complaining on Twitter could be very effective precisely because complaints and requests were public. Companies had to respond, or suffer damage to their brand. To put it bluntly, they had a gun to their head. To get a taste of "tweet rage", check out onholdwith.com, which aggregates a live feed of everyone complaining about being on hold. (The data from that site has even been shown to be a decent predictor of NPS score.)
Even though they may have been pulled into it reluctantly, many companies have now come around. Airline KLM is reportedly generating $25M in sales through social media. For some other good stories see Twitter Might Be the Most Important Customer Service Center You Have by Elaine Glusac.
Although companies have seen great success in using Twitter as a customer service tool, several drawbacks still exist.
Problem 1: The Flawed DM Model
On Twitter, when you want to take your conversation private, you switch to "Direct Messages". But the DM system was designed with person-to-person interactions in mind, so you can only exchange DMs if you're following the other account and vice versa. This is problematic in the customer service context and leads to awkward exchanges such as this:
(That's from this deck by Andrew Maher.)
Does it really make sense for a mobile carrier to be "following" me just because I want to ask about my account? Should they unfollow me after we're done with this interaction? Do I really want to follow them, and have all the subsequent interactions with their customers in my timeline?
Twitter experimented with changes to this model, first in 2013 and again earlier this year, allowing people who opt-in to receive DMs from anyone. This led to a lot of complaints, and is not really helpful for the problem above. I think there's a clear fix for this, but first let's look at two other problems.
Problem 2: Finding the Right Twitter Handle
Finding the right handle can be challenging. Many brands have multiple Twitter accounts, and there is no clear system for which account is the right one for customer support.
Problem 3: Are you a Human?
A third problem is not being sure if you're receiving an automated reply or talking to a human. See Companies alienate customers with Twitter bots for a classic example. (More here.)
Automated responses are not, in themselves, a negative thing. In fact, Twitter could be a better platform compared to the types of routine interactions that are handled by phone-based IVR systems. Dominos allowing you to request a delivery by tweeting a pizza emoji is a great example. (See Self-Service on Twitter: A Crazy Idea?  by Tobias Goebel.)
So, how do you know if you're talking to a human? Furthermore, since most brands have multiple people on Twitter duty, how do you know if you're talking to the same person you were a minute ago or a day ago? Like hashtags, another ad hoc system has emerged for handling this: customer service reps "sign" the tweet with their initials:
This is a decent stop-gap measure but A) not all Twitter users understand it, B) it eats up valuable characters and C) it has a scaling problem (when there are agents with the same initials).
The Solution: A New Flavor of "Verified" Account
So here's an idea that can solve all three problems and help cement Twitter as the channel for text-based customer support. Bear in mind, I have no inside information from Twitter; This is pure speculation.
What if you could designate an account as the "official support account" for a company?
The inspiration here is the "verified" accounts system that Twitter introduced in 2009. These accounts have special badges that indicate they are the official account of a famous person or company. The accounts also have special privileges like analytics and filters.
Like verified accounts, "support" accounts would have extra powers, but geared specifically to customer service:
When searching for a brand, the official support account would be highlighted separately in search results.
Support accounts would automatically be able to send and receive DMs without requiring a following. (Because there would be a limited number of these accounts, monitoring for abuse would be easy.)
Agents could attach their name to tweets, possibly with their avatar, so they wouldn't have to use the awkward initials system. (The timeline would indicate you're interacting with "John Smith" but on behalf of "Acme Corp".)
And that's just a start. Imagine if Twitter enabled an escalation-to-voice button that could be connected to the company's call center (via call-back of course). This could be a natural extension of the "card" system already in place.
And, finally, as the title of this post suggested: Twitter can charge for these accounts.
How could they justify charging for this? Well, companies are already spending money on staff for social media support. Twitter can say that paying for a super-powered support account would make these agents more efficient.
At this moment, providing customer support on Twitter is a must have for companies. That's where the customers are. If Twitter doesn't take the lead on this front, Facebook (with their Business on Messenger program) and other chat providers will start to erode that lead. The right move could create a new revenue stream and lock-in Twitter's role as the best text-based channel for customer support. If that's where customers go for support, that's where they'll go to purchase too, so the stakes are pretty high.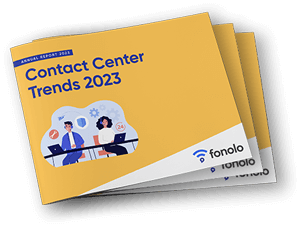 Trend Alert! Contact Center Industry Predictions for 2023
This report offers perspective on where the contact center industry stands today, plus our trend predictions for 2023.