Understatement of the day: Working in a call center is a thankless job! Managers, who are always being told to do "more with less" are constantly putting their effort into hiring, training and maintaining an effective workforce. Meanwhile, there's tremendous pressure on agents to meet and exceed target metrics – in an extremely high-stress environment – which often results in a high turnover rate.
For call centers, the pressure to perform is greater than ever before. A study by Mattersight found that 60% of consumers are frustrated before they even reach a customer service rep. Even worse, the same study found that 75% are still frustrated after the call – even when the problem is solved!
To make customers happy and exceed their expectations, it's critical to choose the right kinds of agents for your contact center. Here are 3 personality traits you should look for:
Patience … and lots of it
Patience, as they say, is a virtue – even more so when dealing with frustrated customers on a daily basis.
Handling customers with care is a trait that can make or break a successful call. For agents, the key is not to take comments personally, knowing that customers often "shoot the messenger" in an attempt to be heard. Giving customers the opportunity to vent can be extremely disarming, and can entirely change the tone of a discussion, leading to positive results.
Assertiveness
At the end of the day, organizations want their customers to be happy, with efficiently delivered service. For call center agents, this means being able to resolve issues in a timely manner. Accordingly, it's ideal for agents to take on a level of assertiveness that gets the job done quickly – making customers happy without having to jump through hoops and get supervisory approval.
The desire for self-improvement
Raise your hand if you haven't learned from your mistakes. (Anyone?) Then you should expect no less from your contact center agents – the desire to continually improve every aspect of their performance.
Of course, it's up to companies to take the lead when it comes to training, making sure agents are armed with performance data and a path to improvement. But the best agents will use the opportunity for personal and professional development, which employers should whole-heartedly embrace.
Always keep in mind: Your agents are on the front-line of customer service, continually interacting with customers. Every one of these interactions is an opportunity to create a satisfied and, hopefully, loyal customer. So choose your agents carefully.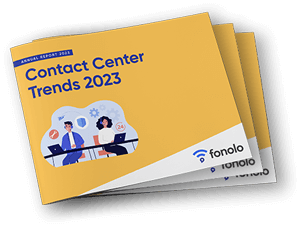 Trend Alert! Contact Center Industry Predictions for 2023
This report offers perspective on where the contact center industry stands today, plus our trend predictions for 2023.