Here at Fonolo, customer service is a passion. We're always reading, writing and discussing ways to help companies improve their service delivery and make life easier for consumers.
Accordingly, here are 10 of the best customer service articles from 2015:
Technically this was written in 2014, but it's a discussion of trends for 2015 – it's a good read.
A great discussion about priority customers and how to serve them.
Echoing something we (at Fonolo) firmly believe: creating a culture of engagement starts at the top, with engaged leaders.
Favourite quote: "Someone once said that sales without customer service is like stuffing money into a pocket full of holes." (I'm going to steal that one!)
Something from our very own blog. A very interesting look at the future of providing customer service via Twitter.
Some great insights from industry experts. (Including Fonolo favourites Kate Nasser and Shep Hyken).
This one is a little different- it's an analysis that compares a company's Net Promoter Score (NPS) with the number of Twitter complaints about being on hold. Since Fonolo operates onholdwith.com (a site that catalogs complaints from Twitter users stuck on hold), I find this particularly interesting. And if your customers are complaining about being on hold, so should you.
Short but sweet … how a marquee brand aligns its employees on its core values (perhaps something we should all be doing at our own businesses).
A different kind of technology story- one that may have a dramatic effect on how we provide customer support.
Another one from the Fonolo blog. This is the first in a series of articles that lays out the hard cost savings (and increase in customer experience) of using call-backs to eliminate hold-time in call centers. This is a must-read for anyone struggling with high abandon rates, long hold-times or poor customer service delivery.
Happy reading!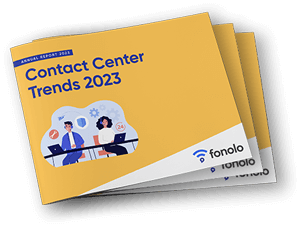 Trend Alert! Contact Center Industry Predictions for 2023
This report offers perspective on where the contact center industry stands today, plus our trend predictions for 2023.