We all know that focusing on the customer experience is the key to a successful call center, but what exactly does that entail? Customer experience boils down to how a customer feels after an interaction with your organization. Managing this experience can be a difficult, but the effort is certainly worth the investment.
Here are three areas for improvement to ensure that caller interactions with your contact center are top notch – these ones really get them raving.
Keep your agents empowered, informed and engaged
Empower agents to make out-of-the-box decisions, keep them informed using the right technology, and for Pete's sake, engage your agents! A caller shouldn't have to deal with more than one agent when getting an issue resolved, and that agent should have the proper tools in place to handle the inquiry. Finally, if agents fully embrace your customer experience mantra they should be rewarded – it's that simple.
Often, management is more concerned with the numbers of calls handled than the well-being of call center staff, creating few incentives for agents to focus on the customer experience. However, employees who are truly engaged are your top performers. Consider using the same kind of approaches as you do for measuring customer satisfaction and feedback to track your employees at every level (especially managers, who can make or break the engagement of their staff), and go from there.
Eliminate the need to wait on hold
Consumers continue to rank live agent conversations as the most effective channel for resolving issues. Yet the call center experience is often a nightmare for callers waiting on hold. In fact, 60% of customers will abandon a call after one minute of waiting on hold. Instead, contact centers could offer callers the option to receive a call-back rather than wait on hold. This not only increases customer satisfaction, it also reduces the costs for call centers.
SoftwareAdvice.com performed a survey regarding whether customers would rather wait on hold or receive a call-back when an agent becomes available. Not surprisingly, 61% of customers prefer a call-back. Here's more information on how call-backs work.
Nearly Two-Thirds of Customers Prefer Call-Back
Understand how to deal with upset callers
If for one reason or another a caller is upset, it's essential that your call center understands how to properly correct the issue. Consider this an opportunity to be a hero to your customers. The most effective way to start calming an unhappy customer is just to let them vent: Don't be tempted to judge whether or not their complaint is valid. Reps needs to apologize and own the problem—not necessarily on a personal level, but on an organizational level—and state their willingness to fix it.
Once an issue is resolved to a customer's satisfaction, it's a good idea to follow-up. One of the biggest complaints customers have about the service they receive is that it's impersonal, and that organizations don't genuinely care about their customers. Correcting a problem and then sending a follow-up inquiry a month or so later is a good way of demonstrating a level of attentiveness that impresses customers and boosts their loyalty.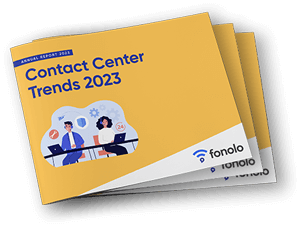 Trend Alert! Contact Center Industry Predictions for 2023
This report offers perspective on where the contact center industry stands today, plus our trend predictions for 2023.