If you're involved with call centers in any way, you're no doubt aware of the Telephone Consumer Protection Act, or TCPA. Originally passed in 1991, this piece of legislation was designed to extend protection to consumers (by means of fines and lawsuits) from aggressive telemarketing efforts. This is something we've written about before.
The legislation itself has been updated on several occasions, with the most recent updates taking effect on July 10th of this year. With this update, a number of notable changes have companies concerned (some of which are appealing the new legislation).
Rather than review all of the changes, I wanted to take the opportunity to discuss how the relevant updates impact the ability for companies to offer customers a call-back.
Revocation of Consent
The first major change deals with the issue of consent, which consumers have to grant in order for companies to call or text them in the first place. As of July 10th, consumers now have the right to withdraw their consent via any reasonable method, oral or written.
The spirit of this is to prevent abuse and to allow consumers the ability to change their mind. For example, when a customer defaults on a debt with a provider and doesn't want to be continually hassled (which happened in the case of Gager v. Dell Financial Services LLC).
By contrast, the call-back is really a short-duration event, triggered by a specific customer request (a DTMF tone on a phone call, or a request from a web or mobile application). This trigger – which is a customer's consent – is something that can be tracked and logged, and happens every single time a call-back is requested. The call-back then occurs minutes to hours after consent is given (depending on the hold time in a given queue).
While it is technically possible to provide a way to revoke consent for a call-back (Fonolo allows this via SMS notifications), in practice acquiring, processing and applying the revocation may take longer than the act of waiting on hold and placing the call-back to the customer.
All of this is to say, revocation of consent is not something that's really a concern in the context of call-backs.
Inheriting Consent
Another change deals with the notion of "inheriting" consent from a previous subscriber of a phone number.
Under the new rules, companies are required to stop calling reassigned wired and wireless telephone numbers after a single call. Of course, since consent is collected every time a call-back is requested, this is also not a concern.
Call Charged Provision
While not something covered by the July 10th update, a 2014 ruling by the Fourth U.S. Circuit Court of Appeals raised the issue of call charges as they apply to VoIP lines, something worthy of discussion.
The TCPA prohibits companies from using an automated dialer to call "any telephone number assigned to … any service for which the called party is charged for the call." In Lynn v. Monarch Recovery Management Inc. the court ruled in favour of the plaintiff whose VoIP line was charged with every call from the debt collector, despite the fact that they had no way of knowing whether the number they called would result in charges to the recipient.
Again, as a result of the requirement of callers to request every call-back, consent is always given, regardless of the type of phone service used by the customer.
It should be noted that it is possible to limit call-backs to a specific type of phone service. For example, before placing a call-back Fonolo looks up the number to determine whether the caller is on a land line, mobile phone or VoIP service, and can limit call-backs to any of those. (We use this technology to limit SMS notifications– which can be used to revoke consent – to callers on mobile phones only.)
If you have any concerns about how the TCPA affects your ability to offer customers a call-back, please let us know and we would be happy to discuss further.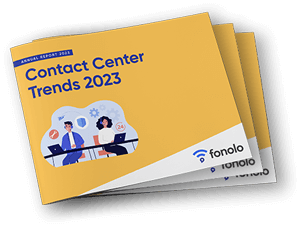 Trend Alert! Contact Center Industry Predictions for 2023
This report offers perspective on where the contact center industry stands today, plus our trend predictions for 2023.