In order to stay current on the many aspects of the contact center industry, we at Fonolo are always on the look-out for new industry research, studies, surveys and whitepapers. As "content marketing" has become all the rage in our industry, there's been a dramatic increase in quantity from vendors, analysts and industry groups. Sadly, that's made it hard to find the quality materials among all the fluff.
We've assembled three recent reports that all touch on similar topics: How organizations are changing the way they see the cost of contact center operations. We are grateful to the authors (and sponsors) for all the insights and we'd like to pass along our recommendations to our loyal readers.
Executive Report on Contact Center Performance & Operations, 2015
Who wrote it: Call Center IQ
Where to get it: Click here
Intro:
Long identified—and stigmatized—as a cost center, the contact center has recently been escaping the shackles of that term. Partly due to its positive impact on financials and partly due to the recognition of customer centricity as a paramount business objective, the contact center has begun cultivating a more favorable reputation.
Key findings:
55% of today's contact centers rely on efficiency metrics to measure agent performance. 54% render an assessment using quality metrics, while 41% draw conclusions about agent performance using customer-oriented metrics.
In the next year, 68% of businesses will increase focus on resolution metrics, 67% will place elevated attention on efficiency metrics, while 52% will pay greater mind to accessibility metrics.
Our favorite chart: 
Hosted/Cloud Contact Center Buyers Guide for EMEA, 2015
Who wrote it: Frost and Sullivan, authored by Nancy Jamison (One of our Top Analysts to Follow)
Where to get it: Click here  (Note this is a preview slide deck for a paid report)
Intro:
An upshot of this rapid transition to hosted/cloud contact centre services is the emergence of dozens of market entrants and offerings from legacy systems providers… Until recently, many contact centre decision makers were hesitant to implement cloud services due to issues such as security and reliability. With cloud service providers assuaging most of their concerns, cloud adoption is surging…"
Key findings:
Today, 37% of contact center organizations in Europe now use a hosted/cloud solution, by 2016, over 86% would have moved one or more applications to the cloud.
Mobile apps are the interaction channel with the largest expected growth in the coming year (49%).
Our favorite chart: 
Collapse of the Cost Center, 2015
Who wrote it: ICMI (Sponsored by Zendesk)
Where to get it: Click here
Intro:
Overcoming the cost center stigma is not a new challenge for contact centers. In particular, the contact centers that are not revenue generating fight this battle on a regular basis as they attempt to quantify how their services help the profitability of the greater organization… Just one of the key findings outlined in this report revealed over 62% of contact centers are thought to be perceived as a cost center by their organizations.
Key findings:
Over 62% of contact centers are thought to be perceived as a cost center by their organizations.
63% of contact centers do not have a formal voice of the customer program.
Our favorite chart: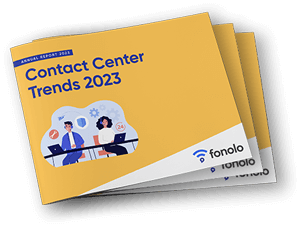 Trend Alert! Contact Center Industry Predictions for 2023
This report offers perspective on where the contact center industry stands today, plus our trend predictions for 2023.