A contact center can't operate smoothly without a properly optimized workforce. It is simply impossible to deliver a satisfactory customer service experience without the right amount of agents, with the right skills, on duty at the right time.
More than ever, companies need to deliver a top notch experience every time because consumer expectations are very high.
In fact, 76% of customers say just ONE unpleasant contact center experience is enough to make them take their business elsewhere.
If you ask consumers what can ruin the call center experience for them, "waiting on hold" is consistently at the top of the list. So it's clear that you have to reduce hold time ("Average Speed to Answer" or ASA). Obviously, an understaffed call center will not yield a good ASA. But adding staff isn't always an option. A properly tuned virtual queuing solution, combined with an optimized Workforce Management (WFM) solution can work wonders.
Let's see how.
Getting staffing levels right
Labor costs make up a large fraction of call center costs. A report by Strategic Contact modeled 5 different kinds of call center situations and provides this helpful visualization. It shows how variable labor costs ("CSRs and Supervisors") account for roughly 70-90% of total costs, depending on the size of the call center. That's why it's so critical to get staffing levels right.
We discussed in the intro the cost of having too few agents. But having too many agents is problematic as well. By misallocating a limited budget on staffing, other parts of the customer service operation can suffer.
Modern workforce management
A decade ago, call center managers used Erlang equations in spreadsheets to figure out staffing levels. (For a quick primer on that topic, see our post Erlang in a Nutshell for Call Center Folks.) But today, this approach has been replaced by sophisticated "workforce management" (WFM) solutions.
Although Erlang equations are powerful, it has long been recognized that the predictions they produce can be way off, especially when abandonment rate is high. (Erlang assumes callers don't abandon.) Some modern WFM solutions instead use simulations to model the interaction between callers and agents. The image below shows how Erlang tends to "overstaff" when compared to a simulation.
To learn more about that image, and the other flaws with Erlang, read Comparing Erlang C and Simulation Modeling by Ric Kosiba and Bayu Wicaksono.
Today's WFM packages have become extremely powerful tools. In addition to staffing optimization, they can also provide performance measurement, agent training and other functions. A good list of vendors is available here.
How WFM and virtual queuing work together
I like to think of the call center in terms of supply and demand. The amount of agents (or agent available time) is the supply and the incoming calls represent the demand. When supply and demand curves are matched up, the call center is operating at top efficiency.
WFM is about adjusting supply.
Virtual queuing is about adjusting demand.
(Because a virtual queuing solution is usually offered as a call-back, we use that term interchangeably with "Call-back solution".) We recommend call centers set up both WFM and call-backs. But if you have neither, it's best to set up call-back technology first.
Here's why virtual queuing (call-backs) should be set up first:
Call-backs will change the shape of the demand curve for agent time. You will want that new profile to be "settled" before you feed it to the WFM package and get revised staffing recommendations. This way you can avoid changing the staffing strategy too many times.
The deployment is easier: a cloud-based call-back solution can be set up in days and doesn't impact agents or other technology.
Dealing with spikes
Call centers that have highly variable call volume present a unique challenge when it comes to staffing. If you staff to the peak, you will have excess agent capacity other times. If you staff to the "steady-state", service levels and customer satisfaction will plummet during peak loads.
When spikes in call volume are unexpected that problem is even harder. WFM works well as planning tool to adjust staff levels days or weeks ahead. But it is less effective as a real-time tool.
A virtual queuing solution fills this gap very nicely. By offering callers a call-back at a later time, you can defer demand on your agents until agent supply can catch up. Furthermore, the "call-back" offer can be turned on and off in real-time to respond to unexpected demand.
The basic idea is shown below:
The callers that remain in the queue will have shorter ASA, and thus lower abandon rate. The callers who accepted the offer of a call-back will be in a "virtual queue".
Data shows that they, too, will have a very low abandon rate as long as your call-back solution works. Remember that offering a call-back is essentially making a promise to your customer, and you must follow through on that call promise.
If you want to see that concept fleshed out with real numbers, see our post Smoothing out Call Spikes. Better yet, you can download our eBook The ROI of Call-Backs, which takes that example further. In it, we look at the relative costs of dealing with this call spike via extra staffing instead of call-backs.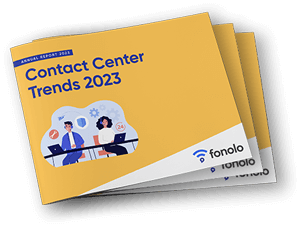 Trend Alert! Contact Center Industry Predictions for 2023
This report offers perspective on where the contact center industry stands today, plus our trend predictions for 2023.