If you manage a contact center, one of the toughest tasks you do is prioritizing the metrics to monitor. Today's contact center software usually makes dozens of metrics available: Service Level, Abandon Rate, Average Speed to Answer (ASA), Average Handle Time (AHT), Occupancy Rate, and more. On top of that, analysis of data provided from systems proximate to the call center (e.g. CRM, workforce management, business intelligence, etc) bring even more metrics to the party: Net Promoter Score, Customer Satisfaction, First Call Resolution (FCR)… the list goes on and on.
Choosing the right metrics is critical. Your call center's budget might be at stake, as well as the jobs of your agents and, of course, your company's bottom line.  We can't tell you which metrics should make the top of your list, because there are too many variables between call centers. But, we'll do the next best thing: We're going to look at why "Average Handle Time" can safely be demoted.
Measuring Average Handle Time (AHT)
The handle time of a call is the sum of 3 numbers, which are illustrated in Figure 1:
1. Talk time: The time an agent and caller spend talking to each other.
2. Hold time: The time a caller spends on hold, not including the initial hold time, when the caller had not yet reached the agent. In other words, "hold time" in this case only counts the seconds where an agent has put the caller on hold (usually to research a solution or confer with a colleague). You can call this "interstitial hold time" to distinguish it from the initial hold time. Another way to avoid confusion is to call the initial hold time the "queue time", since that term is never used for the interstitial hold time.
3. Wrap-up time: The time an agent spends on post-call work after the conversation ends. It's important to limit this to work that is directly related to the call, and exclude general non-call work.
Figure 1
Average Handle Time is the sum of these times averaged across all calls in a given time frame (usually a day), as shown in figure 2.
Figure 2
Thoughts from the industry
A great way to hear from folks closely involved in the contact center industry is to tune in to the Twitter-based "ICMI Chat", held every Tuesday evening. Last week the topic was metrics and, unsurprisingly, a number of comments were focused on AHT.
SilverLining said concisely: "This is the sad truth of the survival of AHT – it measures cost":
A5: Whatever metrics are impacting the bottom line. This is the sad truth of the survival of AHT – it measures cost #ICMIchat

— Silver Lining (@SilverLiningSol) August 4, 2015
Robert Lamb said that AHT can identify "symptoms for analysis", but warned it is not a "performance measure":
@AlHopper_ @justinmrobbins AHT can identify symptoms for analysis on the CX optimization radar. Not perf measure, but to ID opp. #ICMIchat

— Robert Lamb (@lambrobert) August 4, 2015
Justin Robbins, who is the community manager for ICMI and moderates the chat, summed it up nicely:
AHT is an outcome. That's it. If there's a problem with AHT its the result of technology, processes, or behaviors. Focus on those. #ICMIchat — Justin Robbins (@justinmrobbins) August 4, 2015
The appeal of AHT
AHT owes its popularity to the way it closely tracks cost-per-call. A research paper by Strategic Contact modeled 5 different kinds of call center situations and provides this helpful visualization. To see which model is closest to your call center, refer to the original report.
If we take the average across those models, we see that the variable labor costs ("CSRs and Supervisors") account for roughly 80%. Since a lower AHT means less labor required per call, it's a logical step to see that a reduction in AHT leads to reduced operating costs overall.
Pitfalls of AHT as a metric
Another way to think about AHT is that it measures agent efficiency, but not effectiveness. That's why it is so easily misused.
Agent behavior is impacted dramatically by the metrics that management chooses to monitor. So if agents are being graded on AHT, there is a risk they will rush through calls and not solve the problems. Many companies have found that de-emphasizing AHT will lead to increased customer satisfaction and first call resolution (FCR).
A great example of this trade-off can be seen in a webinar we did with Jeannie Sugaoka, Senior VP of Support Services, at Tech CU (Technology Credit Union). Watch it on-demand here.
Jeannie said, "We want our customers to feel cared for, and for every call to be 'one-and-done'… so we don't manage handle time." This is one of those policy decisions that has powerful ramifications. The decision not to watch handle time, sends a strong signal to the agents about how they should approach calls and the kind of style they should use. It's no surprise that Tech CU enjoys a very high customers satisfaction score (C-SAT).
These two aspects of AHT are easily reconciled. One can set aside AHT as an agent performance metric, but continue to search for ways to lower it. (Adding call-backs to your call center is one way that you can do this.)
Learn more
If you enjoyed this, you may also enjoy our other metrics related posts:
Is Your Call Center Tracking Abandonment Rates?
Finding the Right Service Level for Your Call Center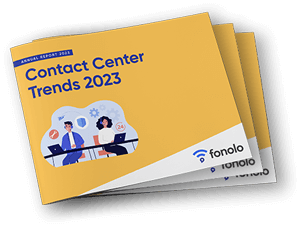 Trend Alert! Contact Center Industry Predictions for 2023
This report offers perspective on where the contact center industry stands today, plus our trend predictions for 2023.