Although the concept of replacing hold-time with a call-back has been around for decades, changes in the industry have sparked renewed interest in recent years.
The first change is that consumers have a lower tolerance for waiting on hold, and are vocal about this on social media channels. This has put increased pressure on call centers to avoid public shame. Another change is that adding call-backs used to require expensive, equipment-based solutions. Thus many call centers were priced-out or scared by the long deployment time. Today, call-backs are within reach of most companies either as part of their existing contact center platform or as a cloud-based service (like Fonolo) that works on top of legacy call center platforms.
Interested in knowing if call-backs are the right solution for your contact center? Here are 7 signs you should look out for.
1. Your Customer Satisfaction Scores are Sagging
Today's consumers have very high expectations when it comes to customer service in general, and contact centers in particular. Providing superior service is critical, especially since 89% of consumers will do business with a competitor following a poor experience.
If you ask customers what can ruin the call center experience for them, "waiting on hold" is consistently at the top of the list. By replacing hold-time with a call-back, your business can remove this annoyance.  Not surprisingly, 75% have said the option of a call-back highly appeals to them.
2. Your First Call Resolution (FCR) Scores Need Improvement
First Call Resolution is a metric that many consider to be critical to the operation of an efficient call center. The implications of handling every issue with one call are very powerful:
More efficient use of agent time (That's the most precious commodity in a call center, after all.)
Higher caller satisfaction (The need to call again is top complaint from consumers.)
Fewer inbound calls (Freeing up resources like telco lines, IVR ports, etc.)
As you can see, a good score implies both quality and efficiency. A recent survey of 200 contact center managers concluded that FCR was the single most important factor affecting customer satisfaction.
A study by Benchmark Portal examined the statistical correlation between various technologies they had implemented and key performance indices, as summarized in the chart below.
Note that call-backs scored quite high on this list. At Fonolo, we've seen first-hand how replacing hold-time with a call-back yield improved customer satisfaction, lower abandonment rate, lower handle-time and higher FCR. (You can see watch some of video case studies here.)
3. Customers Are Hammering you on Social Media
Social media serves as public platform for consumers to vent their frustrations. More than 50% of Facebook users and 80% of Twitter users expect a response to a customer service inquiry in a day or less.
As it turns out, one of the most common complaints on social media is about waiting on hold.
The fact that these complaints remain part of a permanent and searchable record means they can really damage your brand. For a concrete example see Hold Time Fail for American Airlines.
If you see more than a few complaints about long hold time on social channels, and adding agents is not a viable option for you, call-backs are a great way to address this problem.
4. Customers are Using Multiple Channels to Reach You
A large majority of contact centers (88% according to one study) are using multiple channels to interact with their customers. To add some perspective, look at the chart below, from Dimension Data's highly regarded Global Contact Centre Benchmarking Report. It shows the dramatic change in channel usage over the course of several years, based on a survey of 900 call center managers.
Each channel has its strengths, but the voice channel has a place of distinction. We know, at an instinctive level, why a live agent conversation stands apart: When you have a tough issue to discuss, when there is an urgent matter, when the other options have left you frustrated, we want to talk to another human to cut through it all.
That's why call-backs are such an important tool to add to your toolbox: they allow your callers to escalate smoothly to a voice conversation from any other channel. Read more here.
5. You Want to Reduce Abandonment Rates
If your call center has long hold times, many callers will simply abandon, i.e. hang-up.  Abandonment leads to higher repeat calling (which can strain the call center system) and, of course, dissatisfied customers.
The obvious way to lower abandonment rate is to lower hold time, and the obvious way to do that is to hire more agents.  If you have the budget, you can just add agents until your abandonment rate shrinks down to your target level. But of course, budgets are always limited. Luckily, call-backs are an inexpensive way to tackle this problem. A study by ContactBabel reports that 32% of contact centers experienced a lower abandonment rate after call-backs were added.
6. You 're Struggling with Spikes in Call Volume
If your call center has "spikey" call volume, you're faced with an extra challenge: If you staff to the peak volume, you will have a lot of excess agent capacity at other times. Call-backs also help "smooth-out" spikes in call volume by deferring calls (in a customer-friendly manner) till a time when there is excess agent capacity. In a sense, call-backs let you do a better job matching the demand for agent time with the supply agent time. That results in more efficient use of resources.
7. You're About to Launch a Mobile App
The use of mobile customer service apps is expected to grow by 54% in the next 12 months, according to The US Contact Center Decision-Makers' Guide (2015). This change has profound implications for the interactions between companies and their customers. According to a recent study, 77% of those ages 18 to 24 use mobile devices at least once per month for customer support.
Before you send your mobile app out into the world, make sure that there is a way for customers to escalate to an agent conversation if needed. Sadly, most apps simply display their phone number on the "contact us" page. This is a poor way to switch channels because all context with the customer is lost.
For more on this topic read this article on "Getting Mobile Customer Service Right"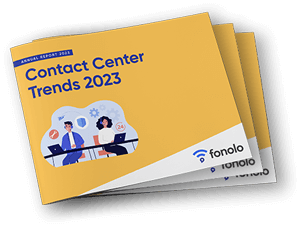 Trend Alert! Contact Center Industry Predictions for 2023
This report offers perspective on where the contact center industry stands today, plus our trend predictions for 2023.