We LOVE working with credit unions.
This industry truly grasps what customer experience is all about, and we're always happy to help them provide a great service to their communities.
That's why we're excited to share with you our most recent success story, featuring Stanford Federal Credit Union.
Stanford FCU is a $1.7 billion full-service financial institution, owned and operated by over 50,000 members of the Stanford Community.
They had identified their contact center as an area of concern; the department was understaffed and personnel lacked contact center knowledge. Due to a shortage of agents, calls were sent to a backup call center during business hours at a cost of $5 per call, in order to maintain their service levels. 
On top of all that, there was no technology in place that could assist the staff in delivering a positive service experience to members.
Stanford sought to reduce costs, improve their customers' experience, and increase service levels.
Learn how turning to Fonolo's Voice Call-Backs solution led to:
$60K savings in business expenses
50% reduction in abandon rate
43% increase in service level targets!
With Fonolo's call-back solution we saw a reduction in our abandon rate, an increase in member satisfaction and an upsurge in agent morale!
– Mark Edelman
Vice President, Digital Member Services
Stanford Federal Credit Union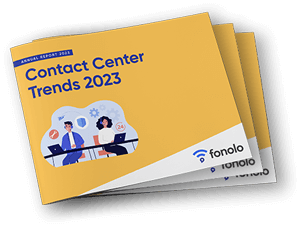 Trend Alert! Contact Center Industry Predictions for 2023
This report offers perspective on where the contact center industry stands today, plus our trend predictions for 2023.